THANK YOU FOR PARTICIPATING THIS YEAR! WE HOPE TO SEE YOU AGAIN IN 2018
NEVER FORGET
The 9/11 Heroes Run unites communities internationally with the goal to never forget the sacrifices of the heroes of September 11th and the wars since: veteran, first responder, civilian and military.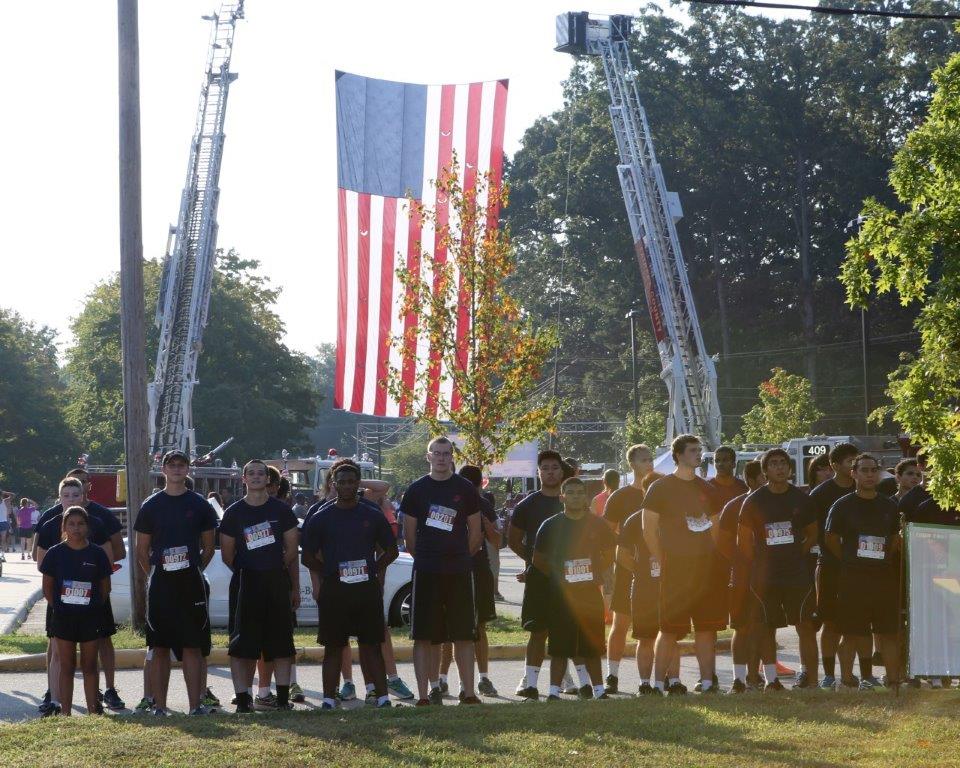 9/11 Heroes Run
---
2017 Alexandria, VA
The 9/11 Heroes Run 5k and fun run/walk welcomes runners and walkers of all levels and of all ages. Events take place all over the world, on or near September 11th, and are 100% organized by local community volunteers. It is the perfect opportunity for your community to personally come out and thank your local veterans, their families, and first responders in an annual, fun, and family friendly environment!
Directions
Race Schedule
| | |
| --- | --- |
| 5K Race Begins | 9 AM - |
| 1/2 Mile Fun Run/Walk | 9:45 am - 10 am |
ADDITIONAL RACE DETAILS
ALEXANDRIA 9/11 Heroes Run Race Specifics
May I register on race day? Yes, but we highly encourage registration prior to race day.
 Can I use a stroller? Yes!
Can I use a wheelchair? Yes!
Can I run with my dog? Service dogs are permitted.
What time does the 1/2 Mile Fun Run begin? 9:45am. 
Packet Pick-Up: Friday, Sep 8th from 5pm-9pm at Sandburg Middle School (SMS) located at 8428 Fort Hunt Rd, Alexandria, VA 22308. Yes, we'll have packet pick-up on race day, but we don't recommend this option!
Parking: On race day, due to the crowds expected and concerns about pedestrian traffic, parking at SMS will only be permitted on-site by race staff and volunteers. Runners will NOT be permitted to park on-site at Sandburg Middle School.
If you live near the event, you are HIGHLY ENCOURAGED to walk or ride a bike. There are bike rackson the school property.
If you drive to the event, you are encouraged to park in one of the church parking lots we have reserved nearby or on Fort Hunt Rd. More information to follow on parking in the days ahead and look for a parking map in your bag at packet pick-up.
For race staff and volunteers who choose to park on-site, you won't be able to drive your vehicle off the site until the event is completely over. This is due to safety concerns from the Fairfax County Police Department based on the number of pedestrians expected.
Pre-Race Arrival and Activities: Plan to arrive early on race day to visit our Vendor Village, get a free cup of Starbucks Coffee, see the patriotic Opening Ceremony starting at 8:15am, visit the Car Show, see Virtual Hall of Heroes, check out the Police EOD robots, kids get their faces painted, kids shoot a real life fire hose at a target, dance teams perform to patriotic music among many other planned activities.
Post-Race Activities: Plan to stay after the race and enjoy a FREE PANCAKE BREAKFAST courtesy of IHOP and hard-working volunteers and see the displays inside and outside the school. Enjoy entertainment and the medal ceremony in the school cafeteria. Mingle with the military, police and fire/EMS personnel who are at the event. For many of us, this is not something we get to do every day – share a meal and some fun with those who protect us.
Facebook, Twitter, Instagram:
Facebook: https://www.facebook.com/911HeroesRunAlexandria
Twitter: @alexvaheroesrun
Instagram: @instaalexvaheroesrun
We look forward to having you join us for this 3rd Annual Alexandria 9/11 Heroes Run. As Travis Manion said, "If Not Me, Then Who…" that's how we're approaching this event. Thanks for being part of it. See you soon!
Cheers, Your Alexandria 9/11 Heroes Run Team
5K & 1/2 Mile Pricing Timeline
August 1 - August 22 @ 11:59pm

5K Individual Registration: $27.50
1/2 Mile Fun Run/Walk Registration: $17.50
Family Pack of 4 Registration: $90
5K Active Duty Military or First Responder : $24.75

10% discount - will be required to show valid government ID when picking up packet of active duty status

August 23 - September 7 @ 11:59pm (Online Registration Closure)

5K Individual Registration: $30
1/2 Mile Fun Run/Walk Registration: $20
Family Pack of 4 Registration: $100
5K Active Duty Military or First Responder : $27

10% discount - will be required to show valid government ID when picking up packet of active duty status
NOTE: if you are not registered by 11:59pm EST on August 31, you are not guaranteed a race shirt or participant memorabilia
Race Day (if applicable)

5K Individual Registration: $35
1/2 Mile Fun Run/Walk Registration: $25
Family Pack of 4 Registration: $115
5K Active Duty Military or First Responder : $30

10% discount - will be required to show valid government ID when picking up packet of active duty status
Ways To Participate
You Can Participate In Many Different Ways
001
60,000+
Veterans + Survivors Empowered
002
100,000+
Spartan Members
003
200,000+
Youth Living "If Not Me, Then Who..." Movement