2017 Charleston, SC
9/11 Heroes Run
9/11 Heroes Run has been rescheduled for 11/19!
Online Registration is OPEN! Please join us for our new date and time!
NEVER FORGET
The 9/11 Heroes Run unites communities internationally with the goal to never forget the sacrifices of the heroes of September 11th and the wars since: veteran, first responder, civilian and military.
Join us to raise awareness and honor the fallen.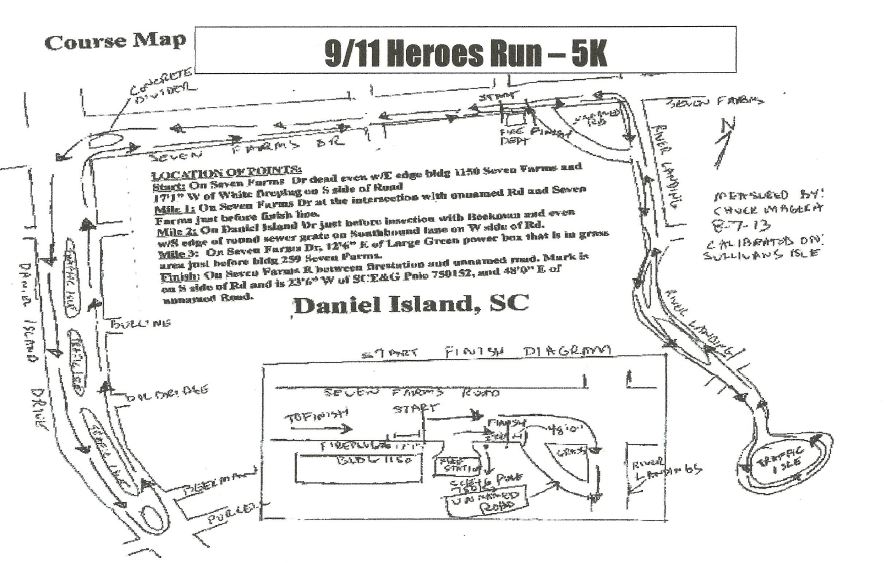 9/11 Heroes Run
---
2017 Charleston, SC
The 9/11 Heroes Run 5k +1M fun run/walk welcomes runners and walkers of all levels and of all ages. Events take place all over the world, on or near September 11th, and are 100% organized by local community volunteers. It is the perfect opportunity for your community to personally come out and thank your local veterans, their families, and first responders in an annual, fun, and family friendly environment!
Directions
ADDITIONAL RACE DETAILS
6th ANNUAL 9/11 HEROES RUN HAS BEEN RESCHEDULED DUE TO IRMA!!!
It's that time again…the 9/11 Heroes Run is coming back to Daniel Island!!! On Sunday, November 19th we will host our 6th annual 9/11 Heroes Run – 5K and we invite you and your family to come out and join us.  Our patriotic, family-friendly 5K race is the perfect way to honor those lost on 9/11, their families, and the service and sacrifices of our military and first responders! 
 We are also excited to announce some very special Guests of Honor for this year's race…
PURPLE HEART RECIPIENT, LANCE CPL. JEREMY BROOKING (USMC – Ret.)
ESTILL POLICE OFFICER – QUINCY SMITH
LT. KEVIN CUNNANE (FDNY – Ret.)
ACCOMPANIED BY SEVERAL LOCAL, RETIRED 9/11 FIRST RESPONDERS
Join us under the huge American flag, proudly waving from two fire truck aerials, and show your appreciation and support of these men and women that serve our country and our communities!  Opening Ceremonies will begin promptly at 8:30AM, to include presentation of the flags by the Charleston Fire Department Honor Guard, bagpipe performances by the Charleston Police Pipes and Drums, the singing of our National Anthem and very powerful speeches by our courageous Guests of Honor!  Our run will start at exactly 9:00AM, leading men and women of all ages on their journey to honor our true American heroes!  We encourage walkers and runners of all ages and experience levels to participate and strollers are welcome too!  Our race course continues to stay the same and will start and finish right in front of the Charleston Fire and Police Department on Seven Farms Drive! 
 We have several event sponsors that will be in attendance so PLEASE be sure to stop by their tables and support them on race day!  We will also have some AMAZING raffles (entries are just $1 each), and a post-race Awards Ceremony, all starting at approximately 10:15AM.  We have some AWESOME top finisher awards this year and will be handing out more than 60 top finisher medals, 6 overall top finisher plaques as well as additional plaques for top overall team participation in several different categories, including specific ones for military and first responders!  We encourage you to round up your friends, family, coworkers and neighbors and do your best to take home the top overall team participation award!  We also strongly encourage local fire departments, law enforcement agencies and military personnel to represent your branch of service on race day and have a team as well!   
Want to run or walk?  Our race registration is open NOW at www.911HeroesRun.org!  Click on the Charleston icon and follow the prompts to register!  Online registration prices increase gradually so be sure to register as soon as possible.  Online registration will end November 15th.  Registration will also be offered at packet pick-up as well as on race morning, but DON'T WAIT…register online by August 31st to guarantee yourself our participant t-shirt!  If you're unable to run/walk but still want to show your support, we would be HONORED to have you volunteer on race day!  Please contact the race director, Theresa Faircloth, at  Charleston@911heroesrun.org or charlestonrunvolunteers@gmail.com for more information, or to join our volunteer committee!
Seven Farms Drive between the intersections of River Landing Dr. and Pier View St. will be closed from 8:00AM until 10:00AM.   Other streets involved with our race route will be closed at approximately 9:00AM and reopened as soon as the last participant clears that part of the course, not to last longer than 10:00AM.  These streets include Seven Farms Dr. between the intersections of River Landing and Daniel Island Drive, portions of Daniel Island Dr. (from main intersection to Purcell Ln) and River Landing Drive. 
RESIDENTS AND BUSINESSES ALONG THE RACE ROUTE ARE KINDLY ASKED TO USE YOUR REAR PARKING FROM THE EVENING HOURS OF FRIDAY, SEPTEMBER 8TH UNTIL THE EVENING HOURS OF SATURDAY, SEPTEMBER 9TH, TO HELP ENSURE THE SAFETY OF OUR PARTICIPANTS!
ADDITIONAL EVENT PARKING WILL BE AVAILABLE AT MUSC HEALTH STADIUM, 1990 DANIEL ISLAND DRIVE.  A SHUTTLE SERVICE WILL BE OFFERED FOR YOUR CONVENIENCE FROM 6:30AM UNTIL 11:30AM!
WE ASK THAT YOU PLEASE DO NOT PARK ON SEVEN FARMS DRIVE BETWEEN THE INTERSECTIONS OF RIVER LANDING AND DANIEL ISLAND DRIVE, AS TO NOT IMPEDE OUR RACE COURSE!
We would love to see you proudly displaying your American Flags and/or patriotic colors on race day!  WE ARE VERY EXCITED TO BE ADDING NEW AWARDS INCLUDING MOST PARTRIOTIC TEAM, MOST PATRIOTIC INDIVIDUAL AND AWARDS FOR OUR OLDEST AND YOUNGEST PARTICIPANT TO CROSS THE FINISH LINE! 
PACKET PICK-UP WILL BE HELD FRIDAY, SEPTEMBER 8TH FROM 10AM UNTIL 7PM IN THE LOOP NEXT TO THE CHARLESTON FIRE & POLICE DEPARTMENT ON SEVEN FARMS DRIVE.  YOU WILL ALSO BE ABLE TO PICK-UP YOUR PACKETS ON RACE MORNING BEGINNING AT 6:30AM.
5K Registration Pricing & Timeline:
August 1 - August 22 @ 11:59pm

5K Individual Registration: $32.50
Family Pack of 4 Registration: $110
5K Active Duty Military or First Responder : $29.25

10% discount - will be required to show valid government ID when picking up packet of active duty status
August 23 - November 16th (When Online Registration Closes)

5K Individual Registration: $35
Family Pack of 4 Registration: $120
5K Active Duty Military or First Responder : $31.50

10% discount - will be required to show valid government ID when picking up packet of active duty status
NOTE: if you are not registered by 11:59pm EST on August 31, 2017, you are not guaranteed a race shirt or participant memorabilia
Race Day 

5K Individual Registration: $40
Family Pack of 4 Registration: $140
5K Active Duty Military or First Responder : $35

10% discount - will be required to show valid government ID when picking up packet of active duty status
Ways To Participate
You Can Participate In Many Different Ways
001
60,000+
Veterans + Survivors Empowered
002
100,000+
Spartan Members
003
200,000+
Youth Living "If Not Me, Then Who..." Movement