THANK YOU FOR PARTICIPATING THIS YEAR! WE HOPE TO SEE YOU AGAIN IN 2018
NEVER FORGET
The 9/11 Heroes Run unites communities internationally with the goal to never forget the sacrifices of the heroes of September 11th and the wars since: veteran, first responder, civilian and military.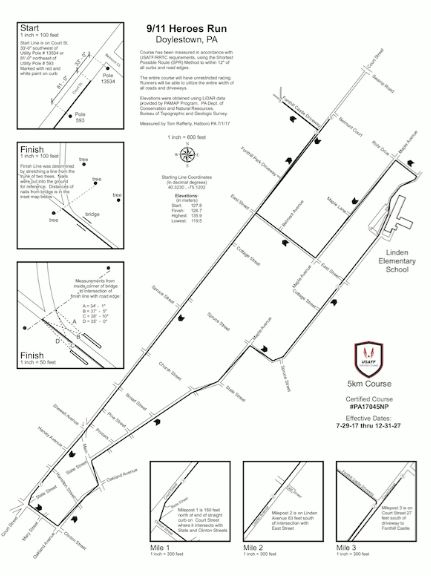 9/11 Heroes Run
---
2017 Doylestown, PA
The 9/11 Heroes Run 5k +1M fun run/walk welcomes runners and walkers of all levels and of all ages. Events take place all over the world, on or near September 11th, and are 100% organized by local community volunteers. It is the perfect opportunity for your community to personally come out and thank your local veterans, their families, and first responders in an annual, fun, and family friendly environment!
Directions
ADDITIONAL RACE DETAILS
Saturday, Sept. 23rd

:

 911 Heroes Run EXPO/Packet Pickup/Race Registration at CB West High School Cafeteria from 9am to 4pm. Parking lot and entrance to Expo are on MacFarlane Lane (one way) off of Lafayette Street. Packet pickup at the Expo for those participants that have pre-registered is strongly recommended. Registration for the 5k and fun run/walk will also be available. The opportunity to purchase Travis Manion Foundation merchandise as well as purchase raffle tickets to enter to win raffle prizes will be available at both the Expo and on race day at Fonthill Park.
Sunday, Sept. 24th
:
 10am: Packet pickup/race registration opens at Fonthill Park
12:30pm: packet pickup/race registration closes
1pm: 911 Heroes Run Ceremony; Colby Umbrell Fun Run/Walk (1:55pm) and Travis Manion 911 Heroes Run 5k (2pm) to immediately follow. Start for both events will take place on Court Street.
Post Race awards for 5k
Parking:  at this point, we have a big crowd of runners/walkers/spectators expected and more are arriving every day. Parking will be available at Fonthill Park. Please enter the Park off of Route 313 and volunteers will be happy to direct you to available space. Due to limited parking, please carpool/walk if possible. 
Parking for our Wheeled Participants: for our wheeled participants, please make sure that when you enter the race site from Route 313 that you tell our parking volunteers that you are a wheeled participant so that they can direct you to your designated parking area.  Volunteers will be available to assist you if you should require it.
Registration Pricing & Timeline:
August 1 - August 22 @ 11:59pm

5K Individual Registration: $27.50
5K Wheeled Division Registration: $27.50
1 Mile Fun Run/Walk Registration: $17.50
Family Pack of 4 Registration: $90
5K Active Duty Military or First Responder : $24.75

10% discount - will be required to show valid government ID when picking up packet of active duty status

August 23 - September 20 @ 11:59pm (Online Registration Closure)

5K Individual Registration: $30
5K Wheeled Division Registration: $30
1 Mile Fun Run/Walk Registration: $20
Family Pack of 4 Registration: $100
5K Active Duty Military or First Responder : $27

10% discount - will be required to show valid government ID when picking up packet of active duty status
NOTE: if you are not registered by 11:59pm EST on August 31, you are not guaranteed a race shirt or participant memorabilia
Race Day (if applicable)

5K Individual Registration: $35
5K Wheeled Division Registration: $35
1 Mile Fun Run/Walk Registration: $25
Family Pack of 4 Registration: $115
5K Active Duty Military or First Responder : $30

10% discount - will be required to show valid government ID when picking up packet of active duty status
Ways To Participate
You Can Participate In Many Different Ways
001
60,000+
Veterans + Survivors Empowered
002
100,000+
Spartan Members
003
200,000+
Youth Living "If Not Me, Then Who..." Movement