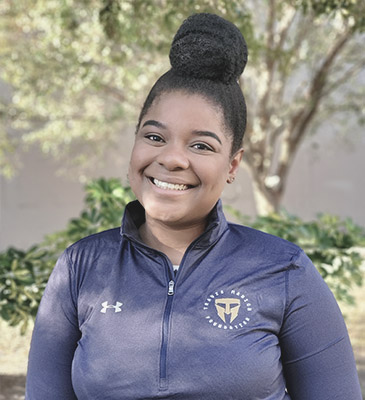 Top Character Strengths
HUMOR - SPIRITUALITY - FAIRNESS 
Personality Profile
What character strength do you value the most and why?
I value Spirituality the most. Understanding the connectedness we all share builds a foundation for respect and value for all. Once that foundation is set, you are able to pull diverse groups of people together to accomplish goals and learn new things.

How do your top character strengths support your work at TMF?
My top character strengths allow me to always see the bigger picture. They help me to create enjoyable experiences full of fun and growth for all volunteers, staff, and supporters.


What do you enjoy most about working with veterans, survivors, and inspired civilians?
I look forward to meeting new people every day. Listening to new perspectives and past experiences of veterans, survivors and inspired civilians motivates me to find new ways to tie our communities together. 
01
Education
B.B.A in Management, International Business Minor, Prairie View A&M University
02
Skills and Expertise
Relationship Building, Community Engagement, Event/ Conference Planning
03
Passions and Interests
Youth Development, Travel, Theatre Arts
04
Military Connection
Ashlynn's dad served in the US Army for 13 years and served in Desert Storm.
001
78,000+
Veterans + Survivors Empowered
002
200,000+
Spartan Members
003
500,000+
Youth Living "If Not Me, Then Who..." Movement