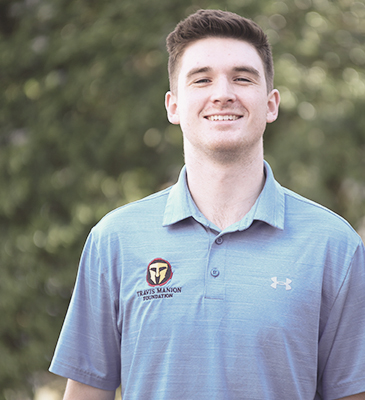 Top Character Strengths
HUMOR - SOCIAL INTELLIGENCE - FORGIVENESS 
Personality Profile
What character strength do you value the most and why? 
I value humor the most because I love making others laugh and have enjoyed doing so for as long as I can remember. Sharing a laugh can provide a powerful connection between people, and honestly… could you imagine a world without humor?

How do your top character strengths support your work at TMF?  
I believe my humor can support the whole staff! Bringing a little joy to the office can brighten up moods, and I think happy people work harder. My social intelligence helps in the aspect of building and maintaining relationships, whether it be with coworkers, TMF Spartans across the world, or anyone else in between. My forgiveness can support TMF because everybody makes mistakes, everybody has their differences, and I am able to put those aside in order to focus on whatever task may be at hand.

What do you enjoy most about working with veterans, survivors, and inspired civilians?
The best thing about being involved with veterans, survivors, and inspired civilians is all of the experiences it has given me. Many of the most emotionally moving moments of my life have come from such experiences. Events like the 9/11 Heroes Run, the "If Not Me, Then Who…" Gala, and Character Does Matter presentations have opened me up to people, stories, and lessons that have truly inspired me and so many others.
01
Education
B.A. in Media Communications and Minor in Journalism from the University of Delaware.

02
Skills and Expertise
Written and interpersonal communication, bartending TMF events, ability to talk basketball for seemingly endless periods of time.
03
Passions and Interests
Sports, basketball, football, 76ers, Eagles, good TV shows, podcasts, and Sam Hinkie.
04
Military Connection
Cousin of 1st Lt. Travis Manion, nephew of Col. Tom Manion.
001
60,000+
Veterans + Survivors Empowered
002
115,000+
Spartan Members
003
300,000+
Youth Living "If Not Me, Then Who..." Movement