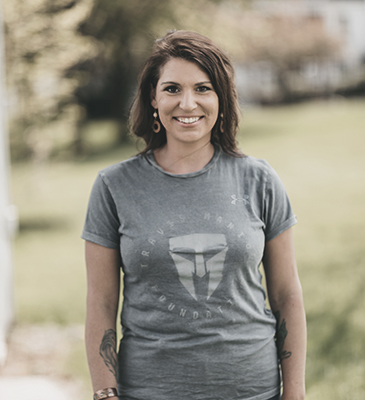 Top Character Strengths
INTEGRITY - SOCIAL INTELLIGENCE - PERSPECTIVE
Personality Profile
What character strength do you value the most and why?
My character strengths all go hand in hand and I'm very thankful for that. Living a life of intention with meaningful relationships is a great gift. Through this, I have been able to build a professional life at TMF that is committed to growing a community of genuine and dedicated individuals who are changing the military civilian community. And in my personal life, I have been gratefully surrounded by a community (a mix of military and civilian) that has been supportive and challenging, but most importantly a place to grow my family with love, integrity, and service to others.

How do your top character strengths support your work at TMF?
Leading the Development Department for an organization like TMF, I have met many inspired individuals. My strengths have led me to be able to take their passions and further the mission of TMF. Perspective gives me the ability to advise and see multiple sides before confidently making a decision while social intelligence gives me an innate understanding of individuals and is a key component to building relationships.

What do you enjoy most about working with veterans, survivors, and inspired civilians?
People who are motivated by a strong purpose are unstoppable. I have never met a community of people more dedicated to the success of each other, to the betterment of society as a whole, and to the overall mission. I am honored to not only be a part of this community, but to work with them each day.
01
Education
BA in Psychology and Human Development, Lee University; MS in Special Education-Students with Severe Disabilities, Pace University; Graduate Cert. in NonProfit Management, University of Pennsylvania
02
Skills and Expertise
Nonprofit Management, Social Intelligence and Strategy and Relationship Building.
03
Passions and Interests
College Football (LSU), Singing/Music, Backseat Driver, Professional Commentator on all Things Life, Being a Mom to my Spirited Boys
04
Military Connection
I am the wife of and active duty United States Army LTC and the daughter of an enlisted Navy Veteran who served on Ohio-class "boomers" during the Cold War.
001
65,000+
Veterans + Survivors Empowered
002
130,000+
Spartan Members
003
400,000+
Youth Living "If Not Me, Then Who..." Movement