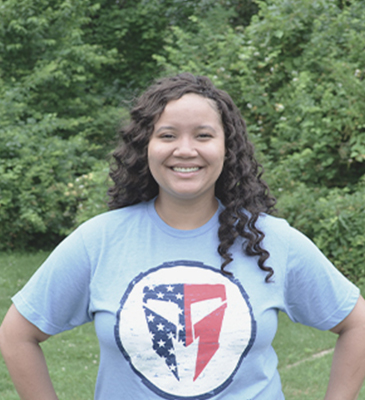 Top Character Strengths
HUMOR - SPIRITUALITY - CREATIVITY 
Personality Profile
What character strength do you value the most and why?
I value spirituality the most, because when things don't make sense, believing that you have a higher purpose or what you're doing has a higher purpose is everything.

How do your top character strengths support your work at TMF?
My top character strength of humor supports my work at TMF because I enjoy seeing others smile. I want to make sure that whoever I am interacting with, we end our interaction with a positive feeling. When you have a good sense of humor you're always memorable. In the sense of spirituality, I believe there is a connectedness between myself, what I do, and those that I encounter. We may not understand everything in the moment, but eventually everything will fall into place. Creativity is important in the sense that we all have unique ideas!
What do you enjoy most about working with veterans, survivors, and inspired civilians?
I admire and have the utmost respect for the sacrifices veterans and survivors have made. I am grateful to connect with those in the military as well as inspired civilians, hear their stories, and overall be encouraged and inspired by them.
01
Education
B.S. Economics Minor Communication-Northeastern University.
02
Skills and Expertise
Event Planning, Social Media, Inspiring others.
03
Passions and Interests
Travel, Hiking, Cooking, Art/Museums, Film, Performing Arts, Music.
04
Military Connection
My great grandfather served in the Navy and Great Uncle served in the 207th AAA AW Battalion during WWII.
001
78,000+
Veterans + Survivors Empowered
002
200,000+
Spartan Members
003
500,000+
Youth Living "If Not Me, Then Who..." Movement