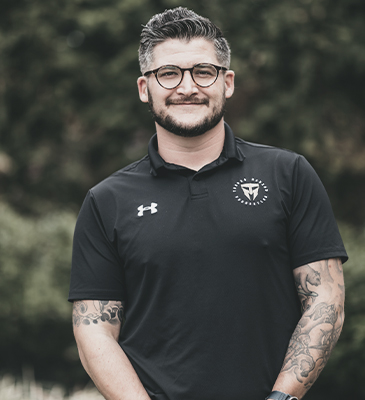 Top Character Strengths
TEAMWORK - ZEST - KINDNESS
Personality Profile
What character strength do you value the most and why?
Zest is essential to living a fulfilled life. Life is always a series of high and low moments, but there is always something to be grateful for despite the circumstances. Approaching every day with excitement for the opportunity to grow and learn makes life a constant adventure.
How do your top character strengths support your work at TMF?
Communities are fundamentally founded on the kindness of strangers. The greater we can work as a team the more we can all benefit and grow. I strive to empathize with others and understand their perspectives to create opportunities to learn from one another. Once those bridges are built and the understanding is achieved, we can go on to multiply our impact in our shared community space.
What do you enjoy most about working with veterans, survivors, and inspired civilians?
I wouldn't even call it work to be able to facilitate change by collaborating with a selfless community of engaged citizens.
01
Education
B.S., Public Heath, DePaul University
Master's of Public Health, DePaul University
02
Skills and Expertise
Public Speaking, Peer Coaching, Program Management & Evaluation.
03
Passions and Interests
Philosophy, Live Music, Hiking, and Family.
04
Military Connection
Former Power Point Ninja, AKA Intelligence Marine.
001
65,000+
Veterans + Survivors Empowered
002
130,000+
Spartan Members
003
400,000+
Youth Living "If Not Me, Then Who..." Movement