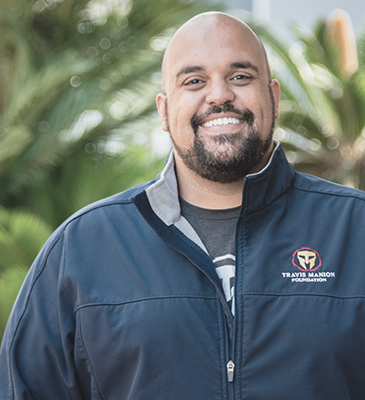 Top Character Strengths
CREATIVITY - HUMOR - PERSPECTIVE
Personality Profile
What character strength do you value the most and why?
Creativity is probably my most valuable character strength because it has gotten me out of a wide variety of challenging situations and into an even wider variety of incredible opportunities.

How do your top character strengths support your work at TMF?
Again, Creativity shines as my top strength here at TMF because it allows me to work across departments to help solve a host of challenges. I have lost count of the number of times that I have been asked for my input or assistance with everything from to technology to program evaluation to marketing strategy and my creativity allows me to plug in and get to work.

What do you enjoy most about working with veterans, survivors, and inspired civilians?
I love hearing the stories. Hearing how everyone who comes into the TMF family is impacted by our work and how they are empowered and inspired to impact their communities brings me so much joy.
01
Education
BA in Media Production, Pepperdine University; MSW in Military Social Work with an emphasis in Community Organization, Planning, and Administration, University of Southern California
02
Skills and Expertise
Media Production, Technology, Problem-solving, Strategic Thinking, Written and Oral Communication, Pop-culture References
03
Passions and Interests
Photography, Videography, Graphic Design, College Football, and Spending Time with my Family and Friends.
04
Military Connection
My father is a USAF Lt Col (Ret.).
001
78,000+
Veterans + Survivors Empowered
002
200,000+
Spartan Members
003
550,000+
Youth Living "If Not Me, Then Who..." Movement