Thanks for joining us for an awesome race! See race results and photos below.
Thanks for joining us for an awesome race! See race results and photos below. 
NEVER FORGET
The 9/11 Heroes Run unites communities internationally with the goal to never forget the sacrifices of the heroes of September 11th and the wars since: veteran, first responder, civilian and military.
Join us to raise awareness and honor the fallen.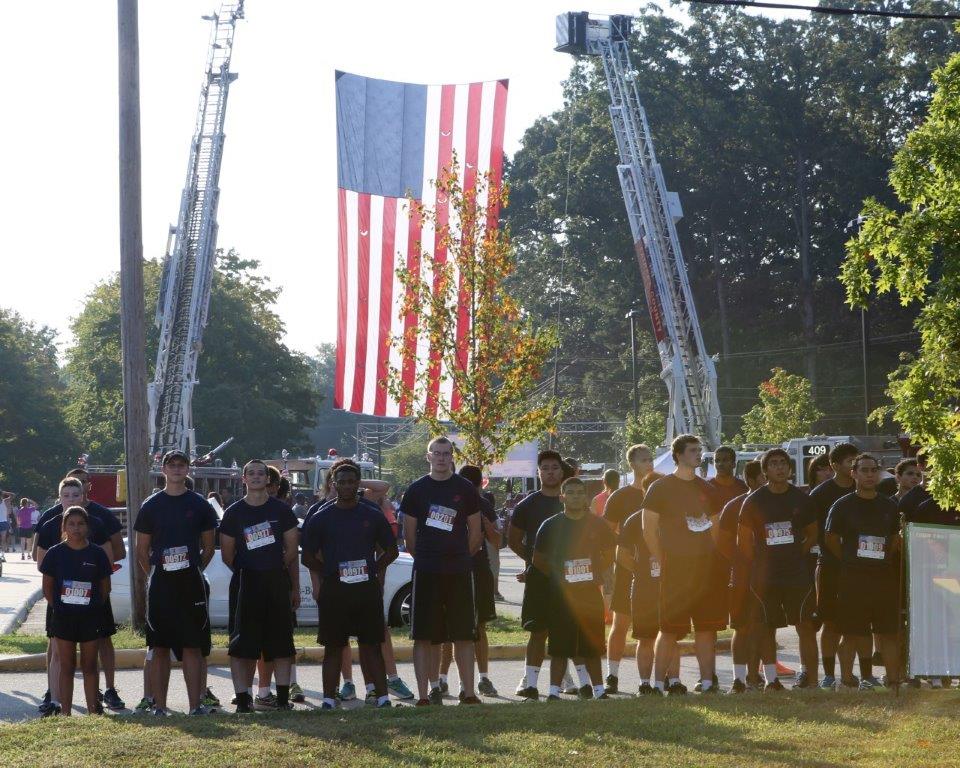 9/11 Heroes Run
---
2018 Alexandria, VA
The 9/11 Heroes Run 5k and 1 mile fun run/walk welcomes runners, ruckers, and walkers of all levels and of all ages. Events take place all over the world, on or near September 11th, and are 100% organized by local community volunteers. It is the perfect opportunity for your community to personally come out and thank your local veterans, their families, and first responders in an annual, fun, and family-friendly environment!
Directions
Race Schedule
| | |
| --- | --- |
| Registration/Packet Pickup | 12:00 PM - |
| Opening Ceremonies | 1:30 PM - |
| 5K Race Begins | 2:00 PM - |
| 1/2 Mile Fun Run Begins | 2:15 PM - |
ADDITIONAL RACE DETAILS
Additional
 Details:
Packet Pick-Up: To avoid the race day rush, you are encouraged to pick up your race bib, t-shirt and bag on Saturday the 10th at our packet pick-up from 12pm-6pm at Road Runner Sports, located at 1120 W Broad Street Falls Church, VA 22046. NOTE: We will allow a friend/family member to pick up your race packet, but they must have your name AND registration number.

Come into Road Runner Sports Falls Church to pick up your bib and more! Don't miss out on the greatest offer in store, just for RACE PARTICIPANTS! $10 OFF minimum $30 purchase OR VIP Family Members SAVE 25% OFF EVERYTHING (see coupon for details)! Not a VIP? Call and ask how you can become one.
Parking: On race day, due to the crowds expected and concerns about pedestrian traffic, parking at SMS will only be permitted on-site by race staff and volunteers. Runners will NOT be permitted to park on-site at Sandburg Middle School.
If you live near the event, you are HIGHLY ENCOURAGED to walk or ride a bike. There are bike racks at SMS.

If you drive to the event, you are encouraged to park in one of the church parking lots we have reserved nearby or on Fort Hunt Rd. We will have plenty of volunteers to guide you to parking. And look for a parking map in your bag at packet pick-up.

For race staff and volunteers who choose to park on-site, you won't be able to drive your vehicle off the site until the event is completely over. This is due to safety concerns from the Fairfax County Police Department based on the number of pedestrians expected.
Pre-Race Arrival and Activities: Plan to arrive early on race day to visit our Vendors, get a Starbucks Iced Tea or a cup of Mission BBQ lemonade, enjoy the FC Police Neighborhood Bike demonstration, FC Police helicopter flyover, and see our Opening Ceremony starting at 1:30pm. We plan to add more pre-race activities in the coming week and will keep you updated!
When You Head Home: Plan to stop by 5845 Richmond Highway (corner of Route 1 and Fort Hunt Road) to visit Fired Up To Help*! They will be selling pulled pork, bbq chicken, pork baby back ribs, beef brisket, coleslaw and chips with all proceeds benefitting the Travis Manion Foundation! 20% off with a race day bib. Eat there or take your food to enjoy at home! 

*Fired Up to Help is a 501c(3) organization based in Fairfax. They provide hot meals to responders and our local community in the immediate aftermath of a disaster in our region. They also support other 501c(3) charities by hosting BBQ fundraisers. We are thrilled to partner with them and appreciate their support!
Please follow our Facebook page for updates and continue to check your email inbox as we will resend this information and any other final details:

Facebook: https://www.facebook.com/911HeroesRunAlexandria 

Frequently Asked Questions (FAQs)
May I register on race day? Yes, but we highly encourage registration prior to race day.

Can I use a stroller? Yes!

Can I use a wheelchair? Yes!

Can I run with my dog? Service dogs are permitted.

Can I be a Volunteer and a Runner/Walker? Yes, but you do need to register for the 5K so you get your bib.

What time are the Opening Ceremonies? 1:30pm

What time does the 1/2 Mile Fun Run begin? 2:15pm 

Can grown-ups run in the 1/2 Mile Fun Run? Absolutely, but be mindful that we'll have some little ones running too and we want it to be fun for all.

Will the 1/2 Mile Fun Run be chip timed? No. The Fun Run participants will have a bib but they won't receive a time. It's just for Fun!!

How many Travis Manion Foundation 9/11 Heroes Runs are there? Each year, around the world, TMF coordinates more than 50 Heroes Runs in communities large and small. 

www.911heroesrun.org

Where did 1st Lt. Travis Manion, USMC, grow up until age ten? Alexandria, Virginia
We look forward to having you join us for the 4th Annual Alexandria 9/11 Heroes Run. As Travis Manion said, "If Not Me, Then Who…" that's how we're approaching this event. Thanks for being part of it. See you soon!
Registration Pricing & Timeline:
May 27 - July 31 @ 11:59pm

5K Individual Registration: $25
5K GORUCK Registration: $25
1 Mile Fun Run/Walk Registration: $15
Family Pack of 4 Registration: $80
5K Active Duty Military or First Responder: $22.50
5K GORUCK Active Duty Military or First Responder: $22.50

10% discount - will be required to show valid government ID of active duty status when picking up packet

August 1 - August 22 @ 11:59pm

5K Individual Registration: $27.50
5K GORUCK Registration: $27.50
1 Mile Fun Run/Walk Registration: $17.50
Family Pack of 4 Registration: $90
5K Active Duty Military or First Responder: $24.75
5K GORUCK Active Duty Military or First Responder: $24.75

10% discount - will be required to show valid government ID of active duty status when picking up packet

August 23 - November 10 @ 7:00pm (Online Registration Closure)

5K Individual Registration: $30
5K GORUCK Registration: $30
1 Mile Fun Run/Walk Registration: $20
Family Pack of 4 Registration: $100
5K Active Duty Military or First Responder: $27
5K GORUCK Active Duty Military or First Responder: $27

10% discount - will be required to show valid government ID of active duty status when picking up packet
NOTE: if you are not registered by 11:59pm EST on August 31, you are not guaranteed a race shirt or participant memorabilia
Race Day (if applicable)

5K Individual Registration: $35
5K GORUCK Registration: $35
1 Mile Fun Run/Walk Registration: $25
Family Pack of 4 Registration: $115
5K Active Duty Military or First Responder: $30
5K GORUCK Active Duty Military or First Responder: $30

10% discount - will be required to show valid government ID of active duty status when picking up packet
Ways To Participate
You Can Participate In Many Different Ways
001
60,000+
Veterans + Survivors Empowered
002
100,000+
Spartan Members
003
250,000+
Youth Living "If Not Me, Then Who..." Movement