Thanks for joining us for an awesome race! Find race timing results below. Please check back soon for race pictures.
Thanks for joining us for an awesome race! Find race timing results and photos below.
NEVER FORGET
The 9/11 Heroes Run unites communities internationally with the goal to never forget the sacrifices of the heroes of September 11th and the wars since: veteran, first responder, civilian and military.
Join us to raise awareness and honor the fallen.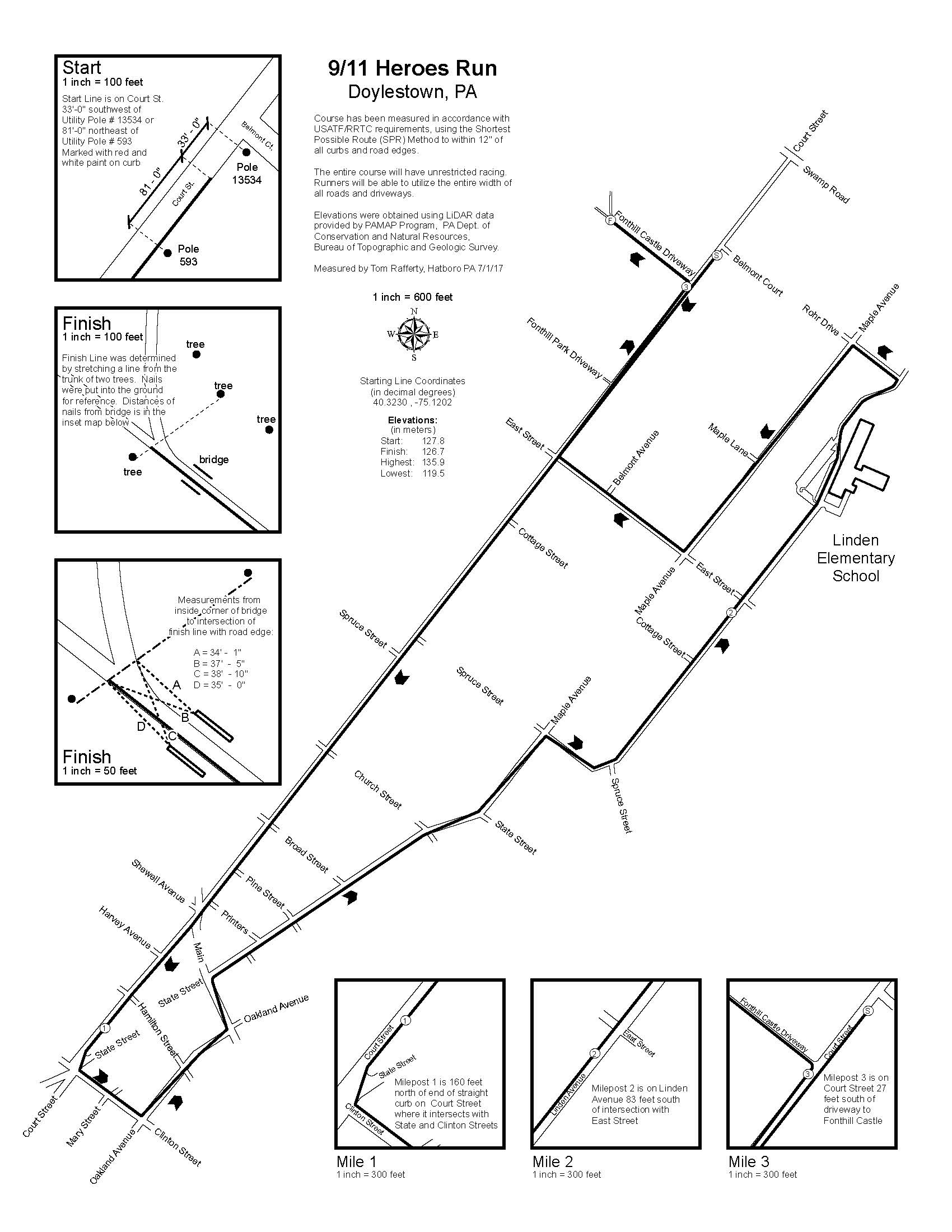 9/11 Heroes Run
---
2018 Doylestown, PA
The 9/11 Heroes Run 5k +1M fun run/walk welcomes runners, ruckers, and walkers of all levels and of all ages. Events take place all over the world, on or near September 11th, and are 100% organized by local community volunteers. It is the perfect opportunity for your community to personally come out and thank your local veterans, their families, and first responders in an annual, fun, and family-friendly environment!
Directions
Race Schedule
| | |
| --- | --- |
| 9/11 Heroes Run Ceremony | 1 PM - |
| Colby Umbrell 1M Fun Run/Walk Begins | 1:55 PM - |
| 5K Begins | 2 PM - |
ADDITIONAL RACE DETAILS
IMPORTANT PARKING CHANGE TO ALL RUNNERS, GORUCKERS, WALKERS, VOLUNTEERS, & SPECTATORS – PLEASE READ CAREFULLY
To All Runners, GORUCKERS, walkers, volunteers, and spectators of the Doylestown 911 Heroes Run:  due to the extremely wet conditions of the parking grounds/fields at Fonthill Park, we have made arrangements to make your parking experience far easier for Sunday, Sept. 23rd.  All participants in the 5k, GORUCK, and fun run, as well as all spectators, volunteers and other participants, are asked to park at the Bucks County Parking Garage (near the Doylestown Courthouse – entrance on Broad Street in Doylestown).  From the parking garage, a shuttle bus will transport you to Fonthill Park.  The buses will run from 9am to 12:45pm on Sunday and then will start up again at 2:30pm.  The bus pickup location will be at the Union Street exit of the garage.  Note that the Bucks County parking garage is approximately within a 1-mile walking distance of Fonthill Park if you choose to walk.  As an alternative, parking will be available at the Acme Shopping Center (Main & East St.) and is also about an easy mile walk to Fonthill Park. ONLY SPONSORS, WHEELED AND HANDICAPPED PARTICIPANTS WILL BE PERMITTED TO PARK AT FONTHILL PARK AS SPACE WILL BE VERY LIMITED. Carpooling is strongly suggested. ALL OTHERS WILL BE DIRECTED TO THE PARKING GARAGE. Please do not attempt to park on the surrounding local streets or run course as this will cause both safety and traffic hazards and will delay the start of the event. If you are planning to register for the run on race day, please note that registration will CLOSE AT 12:30pm so please plan on arriving early and taking parking/travel time into account.  We look forward to our opening ceremony this year where we are honored to host guest speaker, Rob Jones.  This will start promptly at 1pm.  You will not want to miss him!
Thank you for your cooperation!
WEEKEND SCHEDULE:
Saturday, Sept. 22nd:
911 Heroes Run EXPO/Packet Pickup/Race Registration will be at CB West High School Cafeteria from 9am to 4pm. Parking lot and entrance to Expo are on MacFarlane Lane (one way) off of Lafayette Street. * Race pickup at the Expo is strongly recommended.
Sunday, Sept. 23rd:
10am: Packet pickup/race registration opens at Fonthill Park

12:30pm: Packet pickup/race registration closes (no pickup or registration thereafter)
1pm: 9/11 Heroes Run Ceremony – Guest speaker, Rob Jones; Colby Umbrell Fun Run/Walk and Travis Manion 9/11 Heroes Run 5k/GORUCK to immediately follow. Start for both events will take place on Court Street.
Post-Race awards for 5k/GORUCK (overall 1st, 2nd and 3rd male and female), raffles; beer garden (ID required)
Parking for our Wheeled Participants: For our wheeled participants, please make sure that when you enter the race site from Route 313 that you communicate to our parking volunteers that you are a wheeled participant so that they can direct you to your designated parking area.  Volunteers will be available to assist you if you should require it.
Pre-Registration:  for those who have already pre-registered for the 5k/GORUCK or fun run/walk event, you still need to check in, collect your bib, etc. at either the Expo on Saturday or on race day until 12:30pm.  Due to the large crowds it is strongly suggested that you collect your items at the Expo on Saturday. 
You can Still Register! Race Day Registration:  for those who are registering for the Colby Umbrell fun run/walk or Travis Manion 5k/GORUCK race this weekend, you can register at the Expo on Saturday or on race morning between 10am and 12:30pm at the registration tent. Cash, check or credit card accepted.
Awesome 5k Awards & Raffles:  There will be an awards ceremony as soon as the 5k/GORUCK results come in...so don't run off too quickly! We will be posting the winners of our awesome raffle prizes.
Travis Manion Merchandise, etc. for sale:  You will also have the opportunity to purchase Travis Manion Foundation merchandise at both the Expo and on race day while supplies last. Cash, check or credit card accepted.
Doylestown Brewing Beer for Purchase:  stay and reward your efforts with Doylestown Brewing's great local beverages at our race beer garden.  Must be over age 21 (must show your ID).  
Course Note – 5k/GORUCK: For those that are running/walking the 5k/GORUCK course, please note that portions of the route will open one hour after the start time to allow traffic to move through Doylestown. If you still are on the course after one hour, we ask you to finish up on the sidewalk. This is a safety request from the Central Bucks Regional Police Department as a condition of our race permit approval. Racecourse workers will remain on the run course to help ensure your safety, however, please be aware that, after one hour, traffic will resume on portions of the course.
Important Note – GORUCK AWARDS DIVISION: Please read below
Hey there GORUCK Division! We are thrilled you are coming out to ruck the 9/11 Heroes Run in Doylestown, PA! Race day is just a few days away and we wanted to provide you with some information to help logistics run smoothly. This is our very first year having a GORUCK division and we have learned a few things from previous races. As such we have decided to weigh all rucker's packs or gear who want to qualify for a medal. Please see details below:
MEDALS:  Medals will be given to the top 3 overall male and female GORUCK finishers. There will be no separate age brackets in the GORUCK division. Anyone wanting to compete for a medal in the GORUCK Division will need to meet the weight standard outlined below. Rucks or gear will be weighed before the event begins.
THE STANDARD: The additional weight you carry makes it rucking. To qualify for the competitive division you must: Carry a 10 LB weight if you weigh less than 150 pounds. Carry a 20 LB weight if you weigh more than 150 pounds.
WEIGH IN: Weigh in will begin at 11am at the GORUCK tent. Ruck sacks will be weighed dry- water will not count toward your weight. You will receive a bracelet and a special mark on your bib showing that your ruck or gear has met the standard.
WHAT CAN I CARRY: You can carry a ruck sack with bricks, a dumbbell, a sand bag or a weight plate.  Weight vests as well as Fire Fighter's gear also qualify for the GORUCK division
WHOA- I THOUGHT THERE WAS NO MINIMUM! I DON'T WANT TO CARRY THAT MUCH! No problem! You do NOT have to compete for a medal! Come out and ruck your yoga block, or just some water. Skip the weigh in and just have fun!
A SPECIAL NOTE FOR HARD CHARGERS: If you decide to carry more weight than the standard required,  please remember that the standard for this event is 10 pounds and 20 pounds. We will not have different weight levels! If you decide to carry 50 pounds, you may lose a medal to someone carrying 10 pounds. If you are in this for the medal, work smarter not harder!
Post medal ceremony tantrums will not be tolerated! PATCH REMINDER: Please remember, you will be receiving your patch in the mail, not in person on race day!!! Patches have been mailed out in order of registration. As of 9/18 patches for registrations received through 9/6 have all been mailed. The next round of patches will be mailed before the end of September.
Registration Pricing & Timeline:
May 27 - July 31 @ 11:59pm

5K Individual Registration: $25
5K GORUCK Participant: $25
5K Wheeled Division Registration: $25
1 Mile Fun Run/Walk Registration: $15
Family Pack of 4 Registration: $80
5K Active Duty Military or First Responder: $22.50
5K GORUCK Active Duty or First Responder: $22.50

10% discount - will be required to show valid government ID of active duty status when picking up packet

August 1 - August 22 @ 11:59pm

5K Individual Registration: $27.50
5K GORUCK Participant: $27.50
5K Wheeled Division Registration: $27.50
1 Mile Fun Run/Walk Registration: $17.50
Family Pack of 4 Registration: $90
5K Active Duty Military or First Responder: $24.75
5K GORUCK Active Duty or First Responder: $24.75

10% discount - will be required to show valid government ID of active duty status when picking up packet

August 23 - September 19 @ 11:59pm (Online Registration Closure)

5K Individual Registration: $30
5K GORUCK Participant: $30
5K Wheeled Division Registration: $30
1 Mile Fun Run/Walk Registration: $20
Family Pack of 4 Registration: $100
5K Active Duty Military or First Responder: $27
5K GORUCK Active Duty or First Responder: $27

10% discount - will be required to show valid government ID of active duty status when picking up packet 
NOTE: if you are not registered by 11:59pm EST on August 31, you are not guaranteed a race shirt or participant memorabilia
Race Day (if applicable)

5K Individual Registration: $35
5K GORUCK Participant: $35
5K Wheeled Division Registration: $35
1 Mile Fun Run/Walk Registration: $25
Family Pack of 4 Registration: $115
5K Active Duty Military or First Responder: $30
5K GORUCK Active Duty or First Responder: $30

10% discount - will be required to show valid government ID of active duty status when picking up packet 
Ways To Participate
You Can Participate In Many Different Ways
001
60,000+
Veterans + Survivors Empowered
002
100,000+
Spartan Members
003
250,000+
Youth Living "If Not Me, Then Who..." Movement