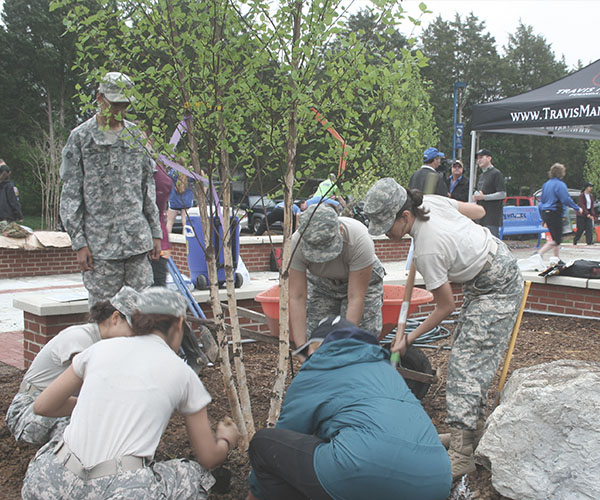 Join TMF and Atlanta area volunteers to help replace and care for trees in the Atlanta area. 
About Trees Atlanta...
Since its beginnings, the primary goals of Trees Atlanta have been to replace trees lost to development, conserve existing trees, protect green space areas, and educate the community's residents and workers about the many benefits of trees. These actions have resulted in Trees Atlanta becoming one of the most widely known non-profits throughout metro-Atlanta and a highly regarded community steward of our urban environment.

VOLUNTEERS, PLEASE READ...
* We will be mulching and watering trees from 9 AM to 12 PM. It is important to arrive on time as Trees Atlanta only provides one demonstration (it takes 10 minutes) and every volunteer needs to see it. We also want all volunteers to stay for the entire project, and not leave before we finish.

* This project is best for ages 12 and up. Volunteers under the age of 16 must be accompanied by a parent/guardian, and all volunteers between the ages of 16 and 17 who are not accompanied by a parent/guardian must have a parent/guardian sign a waiver for them found here:http://treesatlanta.org/wp-content/files_mf/individualvolunteerwaiveryouthandadult.pdf. 

* All volunteers must wear closed-toed shoes or boots (waterproof is best), long pants such as jeans (no leggings or athletic wear), sunscreen and bug spray as needed.

* Please bring drinking water in a reusable container. No one-time-use plastic bottles, please.

* Tree maintenance is hard work, so make sure to eat a good breakfast and come prepared to work hard. A snack might be a good thing for those who tend to lose steam.

* Projects happen rain or shine, so please check the weather beforehand and come prepared.

* Trees Atlanta will provide all necessary tools and instruction, though volunteers may prefer to bring their own work gloves. 
You must be registered by March 30th  to guarantee yourself a t-shirt. 
Register Today