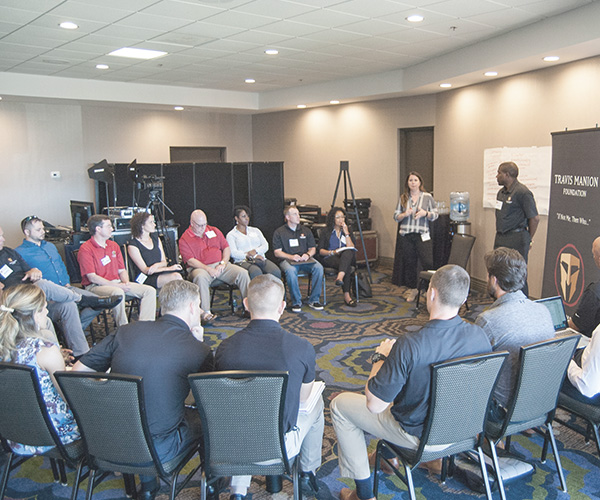 Details: 
Travis Manion Foundation's Northeast Team invites you to its first annual Regional Summit on Saturday, April 7, 2018 in Philadelphia, PA.Uniting TMF Spartans from the Northeast Region, this full-day event offers new and long-time members the opportunity to glean lessons learned about character development from seasoned Ambassadors and Mentors.
Members of the TMF community, including 9/11 Heroes Run race directors, Operation Legacy organizers, Character Does Matter mentors, Veteran Transition Workshop participants, as well as our strategic partners are all invited to attend. In addition to hearing remarks from TMF President Ryan Manion, attendees will also have the chance to speak with experts in their fields on youth mentorship and corporate veteran engagement; discuss best practices in character development; participate in a service project; and experience an Ethical Decision Making module – similar to ones TMF mentors use to challenge young leaders.
The 2018 Northeast Regional Summit is free to attend, and TMF will provide breakfast and lunch, as well as drinks and appetizers at a post-summit happy hour event nearby.
Formal invitation and schedule to follow. Please RSVP no later than 
March 1, 2018
.
Parking/Accessibility:
 There is free parking available at St. Joe's Prep; for travelers arriving by plane or train, the school is easily accessible by public transportation or taxi. Please reach out to the Northeast team at 
northeast@travismanion.org
 with any travel questions.
Accommodations:
 TMF can assist with some transportation and lodging help on a case by case situation. Please let us know if cost or distance is a barrier to you coming, and let's talk about getting you to Philly.
If you'd like to spend the evening in Philly at your own expense, we'll be getting an affordable group rate at a nearby hotel. Charlie would be be honored to take anyone staying in Philly to brunch and for a tour of a few Philly favorites on 
Sunday 4/8
. Please let us know if you'd like to be included in our hotel group rate.
Register Today