Vice Chairman
Alex Gorsky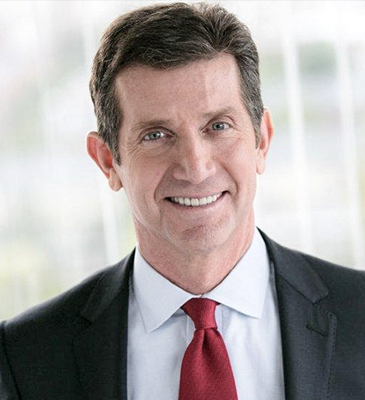 Chairman & CEO, Johnson & Johnson
Alex Gorsky is Chairman of the Board and Chief Executive Officer of Johnson & Johnson and Chairman of the Executive Committee, the Company's senior leadership team. Alex is the seventh person to serve as Chairman and CEO of Johnson & Johnson since it became a publicly traded company in 1944.
Alex began his Johnson & Johnson career as a sales representative with Janssen Pharmaceutica in 1988. Over the next 15 years, he advanced through positions of increasing responsibility in sales, marketing, and management. In 2001, Alex was appointed President of Janssen. He progressed through many management posts at J&J, culminating in being named Chief Executive Officer on April 26, 2012 and Chairman of the Board on December 28, 2012.
Under Alex Gorsky's leadership, Johnson & Johnson continues in its 131st year to be one of the world's exceptional corporations. The company recently was given the #1 ranking on Barron's Magazine's 2016 list of the "World's most Admired Companies," and is currently the number one Pharmaceutical company on Fortune Magazine's list of the "World's Most Respected Companies."
A longtime advocate of diversity and inclusion, Alex has been named one of the "100 Most Inspiring Leaders" by Pharma Voice. He is the Executive Sponsor of two Johnson & Johnson employee resource groups, the Women's Leadership Initiative and the Veteran's Leadership Council. Most recently, in March of 2017, Alex Gorsky was recognized by the Jackie Robinson Foundation for promoting the humanitarian ideals embodied in the life of the legendary baseball hero. And for the past three years, Alex has been on the list of leaders on The Glassdoor Employees' Choice Awards, based entirely on employee feedback. He has also received the Appeal of Conscience Award, the Joseph Wharton Leadership Award and the CADCA Humanitarian of the Year Award.
Alex was recently asked to join the President's Manufacturing Council, to provide advice on manufacturing policy, and create recommendations to grow the American manufacturing sector for the U.S. administration.
Alex is a member of the Board of Directors of IBM, the Congressional Medal of Honor Board of Directors, the Board of Directors of the National Academy Foundation and the Wharton School of Business Board of Overseers. He is also a member of The Business Council and the Business Roundtable. He holds a Bachelor of Science degree from the U.S. Military Academy at West Point, N.Y., and spent six years in the U.S. Army, finishing his military career with the rank of Captain. Alex earned a Master of Business Administration degree from The Wharton School of the University of Pennsylvania in 1996.
001
78,000+
Veterans + Survivors Empowered
002
200,000+
Spartan Members
003
500,000+
Youth Living "If Not Me, Then Who..." Movement