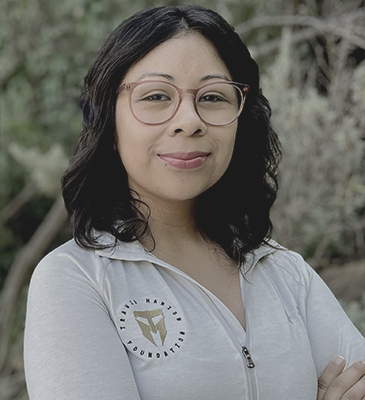 Top Character Strengths
APPRECIATION OF BEAUTY & EXCELLENCE - HONESTY - HUMOR
Personality Profile
What character strength do you value the most and why? 
I value Honesty the most. Honesty establishes everything there is to know about a relationship or an individual. If you are courageous enough to be vulnerable with others and yourself; you are capable of growing and overcoming any obstacle.

How do your top character strengths support your work at TMF? 
My top character strengths have always allowed me to look at things in a different perspective. I believe by spreading positivity through laughter and appreciation of the small things can help others find a newfound sense of purpose, especially for those going through difficult moments in their life.

What do you enjoy most about working with veterans, survivors, and inspired civilians?
I aspire to inspire kindness and change for a better future. It truly is an honor and privilege to be able to continue to serve my country and be surrounded by like-minded individuals.
01
Education
Currently enrolled at Southern New Hampshire University for B.A. in Graphic Design and Media Arts.
02
Skills and Expertise
Graphic Design, SAP, Relationship Building, Training, Bilingual (English and Spanish).
03
Passions and Interests
My passions include playing soccer, hiking, and spending time outdoors to recharge and connect with nature. I love traveling, thrifting, and going to museums with my significant other!
04
Military Connection
Army Veteran, U.S. Army Chemical Corp. Proudly served with 16CAB, 46ASB and 10MTN, 1-87INF.
001
78,000+
Veterans + Survivors Empowered
002
200,000+
Spartan Members
003
500,000+
Youth Living "If Not Me, Then Who..." Movement