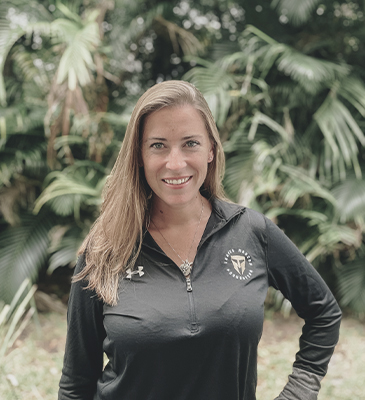 Top Character Strengths
LOVE OF LEARNING - BRAVERY - HONESTY
Personality Profile
What character strength do you value the most and why?
I value bravery the most because I believe it has paved this path I am on in life.  Bravery has helped me get through some really challenging times as well as helped bring me to where I am today, doing what I love.

How do your top character strengths support your work at TMF?
Love of learning and bravery work hand in hand and really well into our culture at TMF.  By learning about past experiences and programs, both through opportunities and conversations with our Spartans on a continual basis, I use bravery to take some calculated risks and create new and exciting ways to engage with them.  
Honestly, honesty translates well into any workplace (pun intended).  Being honest with co-workers, management and most importantly, yourself will lead to a better work environment, productivity and overall happiness.

What do you enjoy most about working with veterans, survivors, and inspired civilians?
These are someof the best individuals our country has to offer.   In dedicating their lives, careers and time to make this world a better place each day, they in turn sacrifice more than most civilians know and oftentimes cannot be repaid.  Every time I have the opportunity to meet or engage, the experience is inspiring and motivational for me.  I'm motivated to do more, to work harder, to put aside whatever small thing I may be dealing with to work for them.  I'm inspired by the resiliency, the passion and the persistency to make our country and communities better.  I'm inspired and motivated to be better for them.  Working with veterans, survivors and inspired civilians has been the honor of my life.
01
Education
B.A. Journalism, Public Relations & Advertising, Temple University; M.B.A, Florida Atlantic University
02
Skills and Expertise
Program Development, Event planning, Relationship building, Engagement and Experience
03
Passions and Interests
Spending time with my family, running, traveling, reading, continuously learning
04
Military Connection
Inspired Civilian and granddaughter of an Army Veteran
001
78,000+
Veterans + Survivors Empowered
002
200,000+
Spartan Members
003
500,000+
Youth Living "If Not Me, Then Who..." Movement