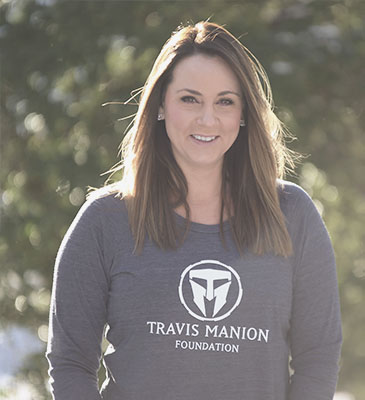 Top Character Strengths
JUDGEMENT - HUMOR - PERSERVERANCE
Personality Profile
What character strength do you value the most and why?
Humor-because at the end of the day, you have to be able to laugh.

How do your top character strengths support your work at TMF?
Event planning involves tons of decision making so good judgement is critical.  It can always be extremely stressful, so the ability to laugh lightens the load a bit.  In Event Planning,  there is no option to quit.  Everyone knows what they say about the best laid plans, and even when things don't go the way you anticipated, you need to push forward.  Sometimes the outcome ends up being better than you expected!

What do you enjoy most about working with veterans, survivors, and inspired civilians?
Travis was like a brother to me, so to be able to work here at TMF in support of our veterans and survivors is a way for me to feel like Travis is with me every day.
01
Education
B.S. Communications Media, Indiana University of Pennsylvania
02
Skills and Expertise
Event planning, fundraising, TMF merchandise specialist, and driving my husband crazy
03
Passions and Interests
Being a mom, spending money (on anything), going to the beach with my family, and watching British murder mysteries
04
Military Connection
My father served in the Army
001
78,000+
Veterans + Survivors Empowered
002
200,000+
Spartan Members
003
550,000+
Youth Living "If Not Me, Then Who..." Movement