Senior Manager, Advancement, DEIB Committee Member
Tonya Murphy
Office Location: Remote Employee: Washington, D.C. Metropolitan Area
tonya.murphy@travismanion.org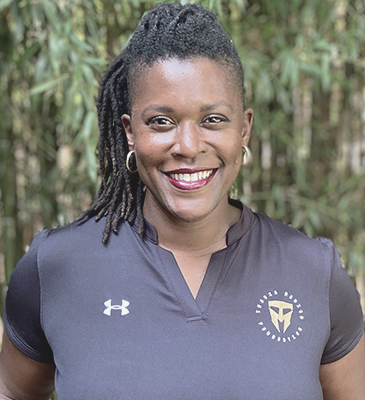 Top Character Strengths
HUMOR - FAIRNESS - TEAMWORK
Personality Profile
What character strength do you value the most and why? I value my sense of humor the most. The world can be heavy at times, there are so many challenges that each of us are facing. Being able to find the humor in things can make the load feel a little lighter, even just for a moment. It can also allow us to build connections, a smile or a laugh shared with someone else can even transcend language and cultural barriers. 
How do your top character strengths support your work at TMF? 
One of the greatest strengths and benefits of the military lifestyle is the sense of teamwork and combining efforts to work towards a common goal. That is the foundation of TMF in many ways: individuals coming together to contribute their gifts to develop character in our youth. With my strengths of teamwork and fairness I am able to connect, and work, with individuals in a way that is authentic and equitable allowing the building of genuine relationships. And my humor means that we always have fun while we're doing it.

What do you enjoy most about working with veterans, survivors, and inspired civilians?
My favorite part of working with Spartans is the sharing of stories and experiences. We often move through life doing truly amazing things and never quite giving ourselves full credit for what we have accomplished or overcome or achieved. However in sharing our stories, not only are we able to connect with others, we often are also inspiring them as they move through their personal journeys. The sharing of knowledge, encouragement, and fellowship that comes through service is powerful and I am honored to be a part of it.
01
Education
B.A. Psychology, Washington University in St. Louis; M.S. Counseling, University of Memphis; Post-Master's Certificate in Counseling, The George Washington University
02
Skills and Expertise
I am a connector, I love talking and listening to people and helping build relationships that are mutually beneficial. I am also creative, collaborative, and motivating.
03
Passions and Interests
I am passionate about uplifting others and empowering each of us to live in our authentic selves. My three sons are my why behind everything that I do and have taught me as much, or more, than I have taught them. I love learning new things, being outside, spending time with my family and dogs, and laughing. My favorite thing in the world is that feeling when you are able to genuinely connect with another person.
04
Military Connection
I am a military spouse, my husband is active duty Navy serving on submarines (Run Silent, Run Deep!)
001
78,000+
Veterans + Survivors Empowered
002
200,000+
Spartan Members
003
550,000+
Youth Living "If Not Me, Then Who..." Movement