2023 Doylestown, PA
9/11 Heroes Run
DOYLESTOWN, PA REGISTRATION IS NOW OPEN
In-Person Registration
---
Join us on October 8 at 2:00 PM at War Memorial Stadium at CB West High School for the 2023 Doylestown, PA 9/11 Heroes Run.
Register Now
The 9/11 Heroes Run unites communities internationally with the goal to never forget the sacrifices of the heroes of September 11th and the wars since: veteran, first responder, civilian and military.
Join us to raise awareness and honor the fallen.
NATIONAL SPONSOR
2023 Regional Sponsor
2023 Local Title Sponsors
2023 Local Presenting Sponsors
2023 Platinum Level Sponsors
2023 Gold Level Sponsors
2023 Silver Level Sponsors
                 CB Wrestling  

COMMUNITY BENEFACTOR
A portion of the proceeds from this 9/11 Heroes Run event will support Doylestown Fire Company No 1 and Central Bucks Regional Police Foundation, Inc.
Race Details
Additional Race Details

RACE WEEKEND SCHEDULE

RACE LOCATION ON SUNDAY, OCTOBER 8th:
WAR MEMORIAL STADIUM AT CB WEST HIGH SCHOOL, DOYLESTOWN

Saturday, October 7th: EXPO
9/11 Heroes Run EXPO/Packet Pickup/Race Registration will be at CB West High School Cafeteria from 9am to 3pm. Parking lot and entrance to Expo are on MacFarlane Lane (one way) off of Lafayette Street. *Race pickup at the Expo is strongly recommended.

Sunday, October 8th: RACE DAY
10am: Packet pickup/race registration opens at War Memorial Stadium at CB West
12:30pm: packet pickup/race registration closes (no pickup, chipped bibs or registration
thereafter)
1pm: 9/11 Heroes Run Ceremony in The War Memorial Stadium; Travis Manion 911 Heroes Run 5k/GORUCK and Colby Umbrell Fun Run/Walk to immediately follow with a start time of 2pm. *NOTE: FUN RUN/WALK IS SCHEDULED TO START AT THE SAME TIME 5k STARTS THIS YEAR!

Post Race awards for 5k/GORUCK

 

Parking: NOTE THERE IS NO PARKING AT THE WAR MEMORIAL STADIUM PARKING LOT. The following are designated parking lots for race day parking: Galiani Ophthalmology Associates, Living Hope, parking garage at hospital, CB West small parking lot on McFarland.

Parking for our Wheeled/Handicapped Participants: for our wheeled & handicapped participants, parking will be available at the War Memorial Field parking lot off of Memorial Drive. Please communicate to our volunteers that you are a wheeled/handicapped participant so that they can direct you to your designated parking area.  Volunteers will be available to assist you if you should require it.

Pre-Registration: for those who have already pre-registered for the 5k or fun run/walk event, you still need to check in, collect your bib, etc. at either the Expo on Saturday (9-3pm) or on race day between 10 & 12:30pm (you will not receive your bib, etc. after 12:30pm on race day). Due to the large crowds, it is strongly suggested that you collect your items at the Expo on Saturday. 

You can Still Register!

Race Day Registration: for those who are registering for the Colby Umbrell fun run/walk or Travis Manion 5k/GORUCK on race weekend, you can register in person at the Expo on Saturday from 9am-3pm or on race day morning between 10am and 12:30pm at the registration tent. Online registration is also open until Sunday, October 8 th at 12:30pm. Just be sure to come to the RACE DAY REG line the day of the race to collect your packet.  Registration costs go up $5 on race day, so register before and save! Cash, check or credit card accepted.

 

Registration online:
Register online until Sunday, October 3rd @12:30pm.  Follow instructions below:
1. Go to: https://runsignup.com/Race/PA/Doylestown/911HeroesRunDoylestown?rsus=500-400-21007650-7774-4f90-92fe-8651c47ac965 on your cellphone.
2. In the Upper LEFT Hand Corner, Choose "Register"
3. Go through registration process for 5k, GORUCK or fun run.
4. There is no Family 4 pack option on Race weekend.  Each participant must register individually starting Saturday, October 7th.
5. Pay By Credit Card: enter credit card payment information on your device (take a screen shot of receipt) and proceed to race day registration line at the EXPO or on race day (before 12:30pm) to collect race materials. 

 

5k Awards & Raffles:  there will be an awards ceremony as soon as the 5k/GORUCK results come in...so don't run off too quickly! We will be announcing the winners of our awesome raffle prizes as well.

Travis Manion Merchandise for sale:  You will also have an opportunity to purchase Travis Manion Foundation merchandise at both the Expo and on race day while supplies last. Cash, check or credit card accepted.

Beaver Fit Trailer: The cross fit trailer will be with us on race day! Stop by and check it out for a fun workout!

Drinks/Food available for purchase! Ice cream from Sweet Pea Ice Cream, Forget Me Not Food, Salty Vets BBQ, soft pretzels, water, ice and beverages will be available on race day for purchase.

Course Note – 5k/GORUCK: For those that are running/walking the 5k/GORUCK course, please note that portions of the route will open one hour after the start time to allow traffic to move through Doylestown. If you still are on the course after one hour, we ask you to finish the up on the sidewalk. This is a safety request from the Central Bucks Regional Police Department as a condition of our race permit approval. Race-course workers will remain on the run course to help ensure your safety however please be aware that, after one hour, traffic will resume on portions of the course.

 
***If you are not feeling well, have a fever, have any COVID symptoms, have recently been exposed to someone with COVID, or feel you may have the virus, do not come to the race nor volunteer for the race. Your health and the safety of the rest of our participants is our number one priority.

 

Course Map


 

GORUCK

Travis Manion Foundation is proud to partner with GORUCK again in 2023, bringing rucking divisions to every 9/11 Heroes Run. Rucking is a sport grounded in Special Forces Training in which participants carry weighted rucksacks. All participants registered for the GORUCK division will receive this year's exclusive TMF GORUCK patch. Please read the rules and requirements carefully as they have changed since last year. Learn more about GORUCK here.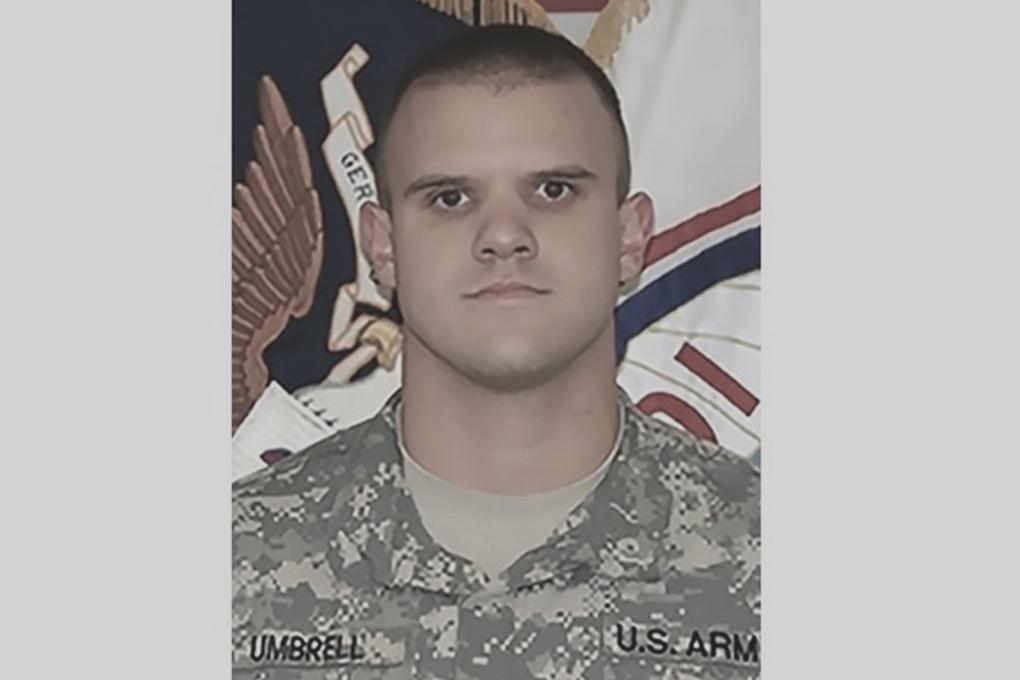 In Honor Of
1st Lt. Colby J. Umbrell
---
The 1-mile fun run at the Doylestown 9/11 Heroes Run will be held in honor of 1st Lt. Colby J. Umbrell.

1st Lt. Colby J. Umbrell died from wounds sustained while supporting Operation Iraqi Freedom on May 3, 2007 in Musayyib, Iraq; he was 26. He was assigned to the 1st Battalion, 501st Parachute Infantry Regiment, 4th Brigade Combat Team, 25th Infantry Division, Fort Richardson, Alaska. He was a 1999 graduate of Central Bucks East High School and a 2004 graduate of Johns Hopkins University. He is a recipient of the Bronze Star and the Purple Heart. He was survived by his mother, Nancy, his father, Mark, brothers, Bruce and Adam, and sister, Casey.

"Before he went, he said he felt like he was involved in something very important," Nancy Umbrell said to the Bucks County Courier Times. "He was enamored with the idea of democracy in the Middle East."

The Travis Manion Foundation honored 1st Lt. Umbrell on Martin Luther King Jr. Day of Service, Jan. 21, 2013 when volunteers gathered at Washington Crossing National Cemetery and dedicated hours of community service to continue the Fallen Hero's legacy.
Have Questions About 9/11 Heroes Run?
Have questions about the Doylestown, PA 9/11 Heroes Run?
001
78,000+
Veterans + Survivors Empowered
002
200,000+
Spartan Members
003
550,000+
Youth Living "If Not Me, Then Who..." Movement