EL PASO, TX REGISTRATION IS NOW OPEN
In-Person Registration
---
Join us on September 9 at 9:00 AM at Veterans Park for the 2023 El Paso, TX 9/11 Heroes Run.
Register Now
The 9/11 Heroes Run unites communities internationally with the goal to never forget the sacrifices of the heroes of September 11th and the wars since: veteran, first responder, civilian and military.
Join us to raise awareness and honor the fallen.
NATIONAL SPONSOR
2023 Gold Level Sponsors
2023 In-Kind Sponsors
Race Details
Additional Race Details

Thank you for registering to join us for the 9/11 Heroes Run - El Paso 2023! Race start/finish line will be at the corner of Wadsworth Ave. and Rushing Rd. Opening remarks and music will be at the pavilion located in the large adjacent grassy area. Finisher awards will also be presented at the pavilion immediately following the race. The route will be 3 loops around the park (1.7 km per lap, totaling 5k), 1 loop for Memorial Mile participants. Strollers and dogs are welcome, but please remember to be courteous to runners and ruckers on the route, and remember to pick up animal waste! Parking is available within the park prior to race kickoff, as well as along surrounding streets.

**PACKET PICK-UP will be available the evening before on Friday, September 8, from 5-7 p.m. at the pavilion, as well as the morning of the race. If you plan to pick up your packet the day of the race, please remember to arrive well before race kickoff (9 a.m.)!

Please email Sarah Speckhart / Kelsey Barber with any questions at elpaso@911heroesrun.org

 

Course Map

GORUCK

Travis Manion Foundation is proud to partner with GORUCK again in 2023, bringing rucking divisions to every 9/11 Heroes Run. Rucking is a sport grounded in Special Forces Training in which participants carry weighted rucksacks. All participants registered for the GORUCK division will receive this year's exclusive TMF GORUCK patch. Please read the rules and requirements carefully as they have changed since last year. Learn more about GORUCK here.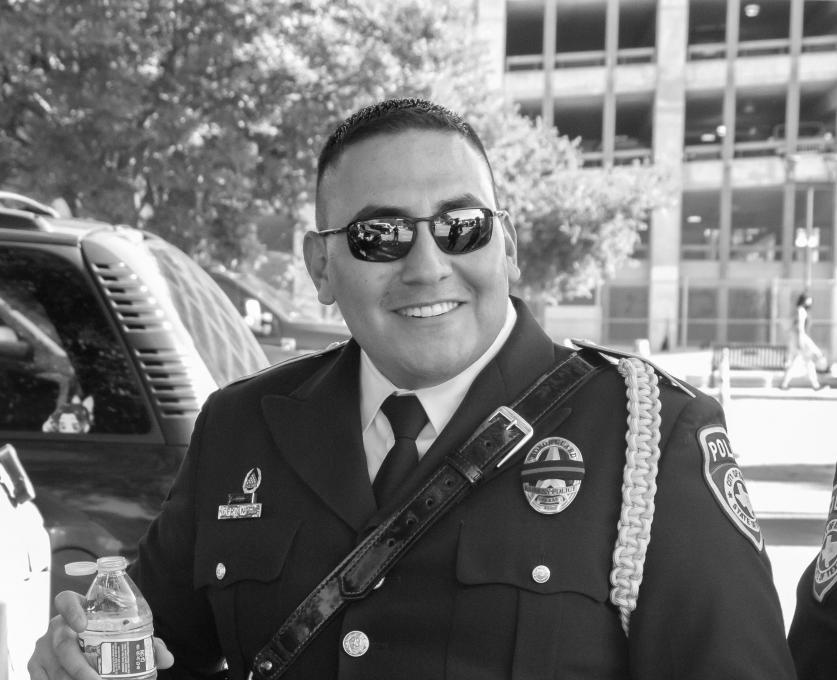 In Honor Of
Detective Alejandro Cervantes, Jr.
---
Alejandro "Alex" Cervantes was born in El Paso, TX on November 30, 1984. Raised in the small town of Anthony just north of El Paso, Alex graduated from Gadsden High School in 2003. Alex was a volunteer firefighter in the town of Anthony, and completed a full EMT paramedic course while serving with the Anthony Fire Dept. Alex responded to and assisted hundreds of calls during his many years with the fire dept.

Shortly after, Alex became a part of the El Paso Police Department, where he
was stationed with the Westside Regional Command. Alex was extremely passionate about serving his community and being a peace officer. During his 10-year service with the El Paso Police Department, he was involved with the bomb squad, was a motors officer, and was promoted to detective before making a lateral transfer to the Euless Police Department, just outside of Dallas, TX.

After his transfer to Euless, Alex quickly established himself to his fellow officers as an officer that cared about the law, his partners, and the community. Alex became a Field Training Officer, and left a lasting impression on new officers he trained, even leading one of them to become rookie of the year. His leadership and determination were evident to his trainees, his fellow officers, and his community. In January of 2021, Alex Cervantes became Detective Cervantes with the Euless Police Dept, where he carried out his duties diligently and passionately. Alex was described by his fellow officers as old school, professional, and dependable.

On November 27, 2021, Alex, his wife, and two sons, were struck by a drunk driver,
who was already fleeing from another collision he had caused. Alex's wife and sons survived and were transported to the hospital. Alex was killed on impact. Alejandro Cervantes was transported and buried back in his hometown of El Paso, where he rests next to his mother and father who passed away exactly a year later.
Have Questions About 9/11 Heroes Run?
Have questions about the El Paso, TX 9/11 Heroes Run?
001
78,000+
Veterans + Survivors Empowered
002
200,000+
Spartan Members
003
550,000+
Youth Living "If Not Me, Then Who..." Movement