Marines
Brandon Barrett
---
DOD // 05.05.2010
HOMETOWN // Marion, IN
DOB // 01.31.1983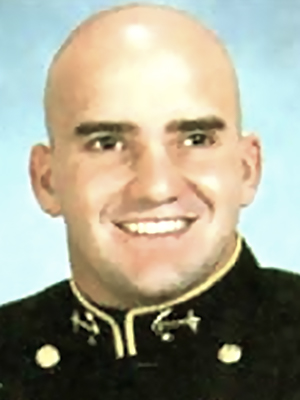 Capt Brandon Barrett, USMC, carried a lifelong passion for service. He attended Marion High School, where he played baseball and football and went on to the U.S. Naval Academy where he graduated in 2006. He was very athletic and cheerful in the service and in his hometown of Marion, Indiana – a place that remained very dear to him.
Brandon was assigned to 1st Battalion, 6th Marines, 2nd Marine Division, II Marine Expeditionary Force based out of Camp Lejeune, North Carolina. At the beginning of his first tour in Afghanistan, he sent letters to the parents of the men he was leading, assuring them he would take care of their sons.  He came home from that tour completely successful.
"The first thing out of his mouth when we went out to dinner is 'Everyone is safe,'" said Kristin Marcuccilli, a classmate and friend of Brandon's from Marion High School. "You never heard a person more passionate about the responsibilities of leading these young men."
Brandon was killed while conducting combat operations in support of Operation Enduring Freedom on May 5, 2010, in Helmand Province, Afghanistan. He was on his second tour of duty at the time of his death.
"He never backed down from anything. There was nothing that Brandon couldn't do. There was no challenge that he couldn't overcome. He took on anything you put in front of him. He was just such a great guy," said friend, Lee Contreras.
Travis Manion Foundation honored Capt Brandon A. Barrett, USMC through the Character Does Matter program presented during the USNA's Summer Seminar and USNA STEM (Science, Technology, Engineering, and Math) Camp for rising 11th graders.
TMF Stats:
001 78,000+ Veterans + Survivors Empowered

002 200,000+ Spartan Members
003 550,000+ Youth Living "If Not Me, Then Who..." Movement