Navy
Kevin Bianchi
---
DOD // 07.16.2003
HOMETOWN // Maplewood, NJ
DOB // 07.15.1963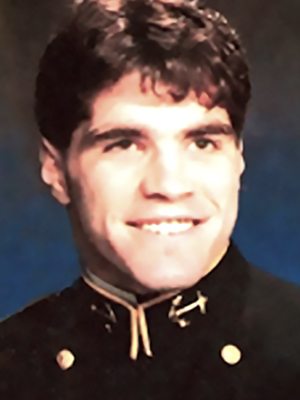 Commander Kevin A. Bianchi was killed on July 16, 2003 when his MH-53E Sea Dragon helicopter crashed near Naval Air Station Sigonella in eastern Sicily. He was one of four crewmembers killed in the crash. Commander Bianchi, a 1985 Naval Academy graduate, served in the Navy for 18 years.
"Kevin, for one thing, just loved life so much. He was the kind of guy who always had something good to say about everybody," said former Columbia High School athletic director and lacrosse coach, Bob Curcio. The Bianchi brothers are outstanding athletes, three attended the Naval Academy while one attended Rutgers. Commander Kevin Bianchi's older brother, Robert, was killed 16 years prior to Kevin when his own twin-engine HH-46 went down during a training mission, making Kevin's death the second tragedy the family experienced.
"To have one kid at the Naval Academy become a captain of an athletic team is one thing, but three is truly something special. It says a lot about their family," Richie Meade, the assistant lacrosse coach at the Academy said.
Commander Kevin Bianchi is survived by his wife and four children, as well as his parents and one remaining brother.
"Even though it's a tragic loss, you could really feel the pride from all of the servicemen in attendance," said Jeff Ringel, a Maplewood friend who also attended the Naval Academy with the late Commander. "It was almost heartwarming. The fact that this happened twice to the same family is just horrific, but you have to realize that even though Kevin died, and Bobby too, they were doing something that they truly loved. And most importantly, they were serving their country. What more could you ask for?"
The Travis Manion Foundation honored Commander Kevin A. Bianchi through the Character Does Matter program presented during the USNA's Summer Seminar and USNA STEM (Science, Technology, Engineering, and Math) camp for rising 11th graders.
Related Links
TMF Stats:
001 78,000+ Veterans + Survivors Empowered

002 200,000+ Spartan Members
003 550,000+ Youth Living "If Not Me, Then Who..." Movement