Navy
Michael Strange
---
DOD // 08.06.2011
HOMETOWN // Philadelphia, PA
DOB // 06.06.1986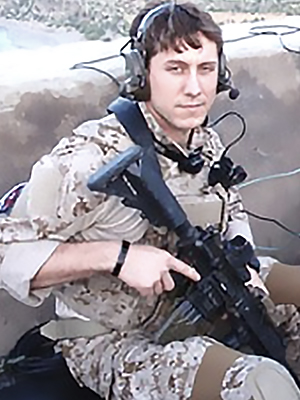 Petty Officer 1st Class Michael Strange, 25, of Philadelphia, Pa. was among 30 United States service members who died in the Aug. 6, 2011 CH-47 Chinook helicopter crash in Wardak province, Afghanistan. The cryptologist technician was assigned to a SEAL team in support of Operation Enduring Freedom. He served three tours in Afghanistan and earned a Purple Heart for his service. Strange graduated from Northeast Catholic High School in 2004; soon after, he decided to join the Navy, and began boot camp. He was survived by his mother, Elizabeth Strange, his father, Charles Strange, and sisters, Katelyn and Carly.
"He never made you feel that he was on a different level," Petty Officer First Class Ian Regnier told The Philadelphia Inquirer. "Even though he was on a different level from us all."
The Travis Manion Foundation honored CTR1 (EXW) Michael Strange through the Character Does Matter program on Oct. 19, 2012 when his story inspired 20 cadets in the Navy JROTC at Benjamin Franklin High School in Philadelphia, Pa. Strange was also honored with 31 other fallen heroes at the Westover School in Middlebury, Conn on Jan. 18, 2013.
Related Links
NBC News
http://www.nbcphiladelphia.com/news/local/Local-Navy-Seal-Killed-in-Helicopter-Crash--127095673.html
Penn Live
http://www.pennlive.com/midstate/index.ssf/2011/08/philadelphia_family_mourns_los.html
TMF Stats:
001 78,000+ Veterans + Survivors Empowered

002 200,000+ Spartan Members
003 550,000+ Youth Living "If Not Me, Then Who..." Movement