Marines
Steven Sutton
---
DOD // 05.26.2012
HOMETOWN // Leesburg, GA
DOB // 11.15.1987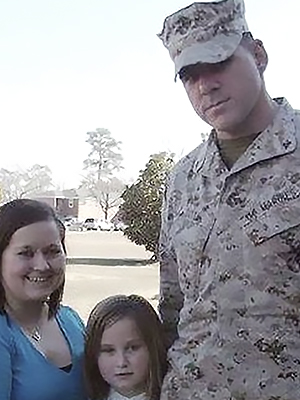 Lance Cpl. Steven G. Sutton, 24, of Leesburg, Ga., died May 26, 2012 while conducting combat operations in Helmand province, Afghanistan. He was assigned to 1st Battalion, 8th Marine Regiment, 2nd Marine Division, II Marine Expeditionary Force, Camp Lejeune, N.C. He was supporting Operation Enduring Freedom. He was awarded the Combat Action Ribbon, the Sea Service Deployment Ribbon, the Afghanistan Campaign Medal, the Global War on Terrorism Medal, the National Defense Service Medal, and the NATO Medal. The Marine was survived by his wife, Toni Senn Sutton, his daughter, Aubrey Smith, his father and his father's wife, Gene Sutton and Bonnie, his mother, Sue Etheridge, two brothers, Jack Sutton and Ches Balentine, his sister, Nicki Tyre, grandparents, Bobbi Ford and Nell Rugg, and extended family.
"At 6-foot-7, he stood tall among his peers, both in size and demeanor. 'He was just a good kid. Slow to anger — as big as he was you could understand how a kid his size could be overbearing or aggressive — but that just wasn't him,' Lee County High School Principal Kevin Dowling recalled. 'He had a kind way about him, was never any trouble and was the kind of student we strive to create here in Lee County.'
And by all reports, that was the kind of man — the kind of Marine — he grew up to be."  –Albany Herald
The Travis Manion Foundation honored Lance Cpl. Steven Sutton, USMC by bringing two of its programs to his hometown. Leesburg hosted a 9/11 Heroes Run in honor of Sutton on Feb. 23, 2013. Inspired by their hometown hero, Lee County Middle and High School students participated in a Character Does Matter "If Not Me, Then Who…" Service Challenge to carry on his legacy and impact their community.
Related Links
Youtube
http://www.youtube.com/watch?v=kzjEf2EY9W0
Albany Herald
TMF Stats:
001 78,000+ Veterans + Survivors Empowered

002 200,000+ Spartan Members
003 550,000+ Youth Living "If Not Me, Then Who..." Movement