Marines
Niall Coti-Sears
---
DOD // 06.23.2012
HOMETOWN // Washington, D.C.
DOB // 06.21.1989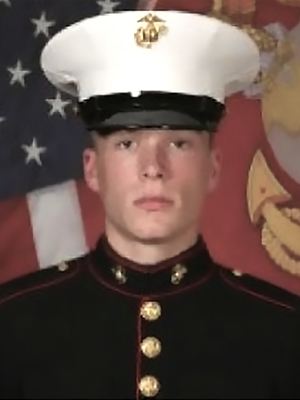 Lance Corporal Niall W. Coti-Sears, born and bred in the Washington, D.C. area, was killed in action on June 23, 2012 when he stepped on a roadside bomb while conducting combat operations in Helmand province, Afghanistan. He died two days after his 23rd birthday. Coti-Sears was assigned to the 1st Battalion, 7th Marines, 1st Marine Division, I Marine Expeditionary Force, Twentynine Palms, California. For his service he earned the Purple Heart Medal and Combat Action Ribbon, among other awards.
Lance Corporal Coti-Sears was a talented poet, songwriter, and musician. He carried this love through his service in the Marines, which he joined in November, 2008, by teaching some of his fellow platoon members to play the guitar. He was also very involved with John Eaton Elementary School, where his mother is a fourth grade teacher. On April 16, 2013 the school conducted a dedication ceremony and initiated the Niall W. Coti-Sears Memorial Peace Garden in his honor.
Lance Corporal Coti-Sears' mother, Susan Coti, carries on his legacy, with the help of the Travis Manion Foundation, through initiatives to better the available arts and education of youths in Burma. Susan received the 2013 Janet L. Manion Memorial Challenge Grant to help her honor Niall Coti-Sears' love for music and children.
"When I got home," Susan Coti says of June 25th, two days after her son's death, "There were two beautiful, beautiful bouquets of very exotic flowers and he always had exquisite, sophisticated taste, too. And there were two bouquets with beautiful notes, you know: 'Just because. You're always here for me, Mom. I love you. I'll see you soon' and the other one: 'I love you with all my heart.'"
Related Links
Fox:  http://www.myfoxdc.com/story/18884566/arlington-marine-killed-in-afghanistan#axzz2XKdMkCC6
TMF Stats:
001 78,000+ Veterans + Survivors Empowered

002 200,000+ Spartan Members
003 550,000+ Youth Living "If Not Me, Then Who..." Movement