Army
Tofiga Tautolo
---
DOD // May 27, 2012
HOMETOWN // Pago Pago, American Samoa
DOB // Aug 31, 1988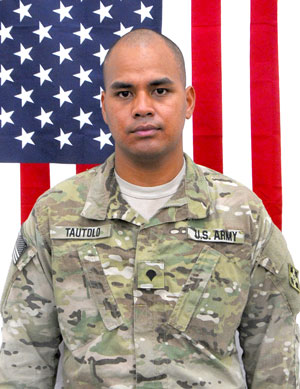 Tofiga grew up back in American Samoa and moved to Hawaii in 2005. Joined the Service right out of high school. Tofiga was always the life of any party/ get together we would host or attended. He was well loved and respected by his friends whom he welcomed into our home like family. 
SPC Tautolo's wife,  Rita, stated that "He was a great man and I'm so sad to see him go." She now lives in Seattle with the couple's infant son. "He was so adoring and friendly to everyone," she added. "He helped everybody who needed help."
SGT Tautolo was born in  Pago Pago, American Samoa and grew up in Wilmington, CA.. Tautolo first served as a Marine deploying to Iraq in 2008 and then to Afghanistan in 2009 for seven-month tours.
"He was well-respected by his peers, subordinates and leaders alike," according to his CO  CPT Bryan Gray.
SPC Tautolo originally joined the Marine Corps in 2006 and enlisted in the Army 4 years later. He served as a cavalry scout, driver and gunner. He deployed twice to Iraq and twice to Afghanistan, earning a Bronze Star and a Purple Heart. SGT  Tautolo never backed down from a challenge. CPT Bryan Gray related the story during SGT Tautolo's memorial service of when the men around Tofiga were challenged to a weight lifting contest. SGT Tautolo naturally stepped up, and several curls later, SGT Tautolo smirked, "You know you should never challenge a Samoan to a contest of strength." - submitted by family
"He was the strongest of us, the best of us," said CPT Gray. "He will be missed."
When Tofiga joined the Army in 2010, he was noticed immediately for his unique ability to balance his leadership role while maintaining a healthy, low keyed sense of humor to keep his soldiers relaxed but ready for battle.
"The first thing I noticed about him was a proud soldier who stood tall," said SGT Richard Dorr.
Standing guard with SGT Tautolo one day, SGT Dorr remembered that Tofiga spoke of his biggest passion: being a father. Tautolo talked for hours about his wife, Rita, and his infant son.
"Everything he did, he did for his family," SGT Dorr added.
SGT Tautolo's son was born November 10, 2010 — the 245th anniversary of the Marines Corps' 1775 founding. SGT Tautolo named his son Toaotaua. Translated, it means "Warrior of War."
TMF Stats:
001 78,000+ Veterans + Survivors Empowered

002 200,000+ Spartan Members
003 550,000+ Youth Living "If Not Me, Then Who..." Movement