Army
Jesse Albrecht
---
DOD // 05.17.2007
HOMETOWN // Wasilla, AK
DOB // 09.11.1975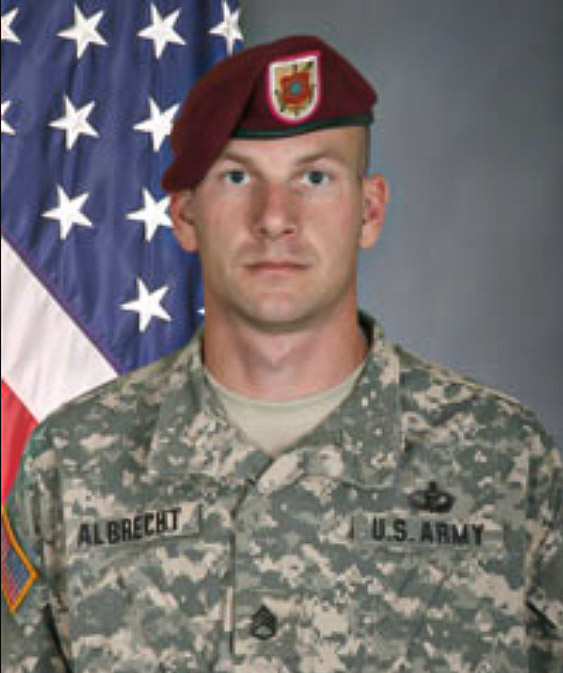 TOP CHARACTER STRENGTHS
BRAVERY - HONESTY - LOVE
Jesse B. Albrecht had built a house in Alaska with his new wife, picked up a new hobby in Iraq, and planned to become an Army recruiter. He had smart, well-laid-out plans, according to his mother, Denise Albrecht, and he'd sit around at night with his fellow soldiers chatting about golf and what courses they'd play when they returned from military service.

Jesse was killed Thursday, March 17, 2007, when a bomb detonated near his vehicle in Iraq.
He left behind his wife, Crystal, and an 11-year-old daughter, Salena, from his first marriage.

Jesse served as a motor transport operator with the 725th Brigade Support Battalion, 4th Brigade Combat Team, 25th Infantry Division. He joined the Army in June 1993 as a high school junior and was assigned to a base in Fort Richardson, Alaska in September, 2005. When he was killed in action, he was less than eight years from retirement.
Denise Albrecht said that her son last came to visit her on his way to Alaska.
"He had switched from living in Laurel, Maryland, and he was going up to Alaska, so he stopped by for a couple of weeks," she said. "Then, once he got up there, they were so busy doing training missions and everything [and never came back]."
However, the two kept in close contact.
"Jesse was the kind of person who would brighten up a room with his smile," she said. "He basically called me all the time."
Jesse graduated from Prescott High School in 1994 after returning from boot camp, wrestled in high school, and enjoyed snowboarding, fishing, snowmobiling and riding ATVs. Denise Albrecht said that his fellow soldiers told her he was one of the first to participate in platoon outings that were scheduled most weekends, including paint ball and even ice hockey, and also enjoyed playing cards, even though "he couldn't bluff a three-year-old in a poker game," she said.
His mother also said her son loved the Army and saw it as his role to serve his country, even as she worried about his well-being.
"He would say, 'Mom, it's my job. You go and work in a factory, and I work for the government. That's my job'."
Character Strength Stories:
Love - Jesse loved unconditionally and cared for me so much. He knew how my depression was at times and made sure to introduce me to other wives to support me during his deployment, for my well-being. He would make sure he found a way to tell me loved me every day of the deployment. He passed away in May, but I received an email from him on our wedding anniversary two months later explaining what our vows meant to him. He had scheduled the email to be delivered to me on that day. I was in tears from the love I felt even after he was gone.
-Submitted by Crystal, Surviving Wife
Jesse's service was honored during the 2023 New Orleans Expedition.
TMF Stats:
001 78,000+ Veterans + Survivors Empowered

002 200,000+ Spartan Members
003 550,000+ Youth Living "If Not Me, Then Who..." Movement