National Guard
Daniel Eshbaugh
---
DOD // 09.18.2008
HOMETOWN // Norman, OK
DOB // 10.18.1964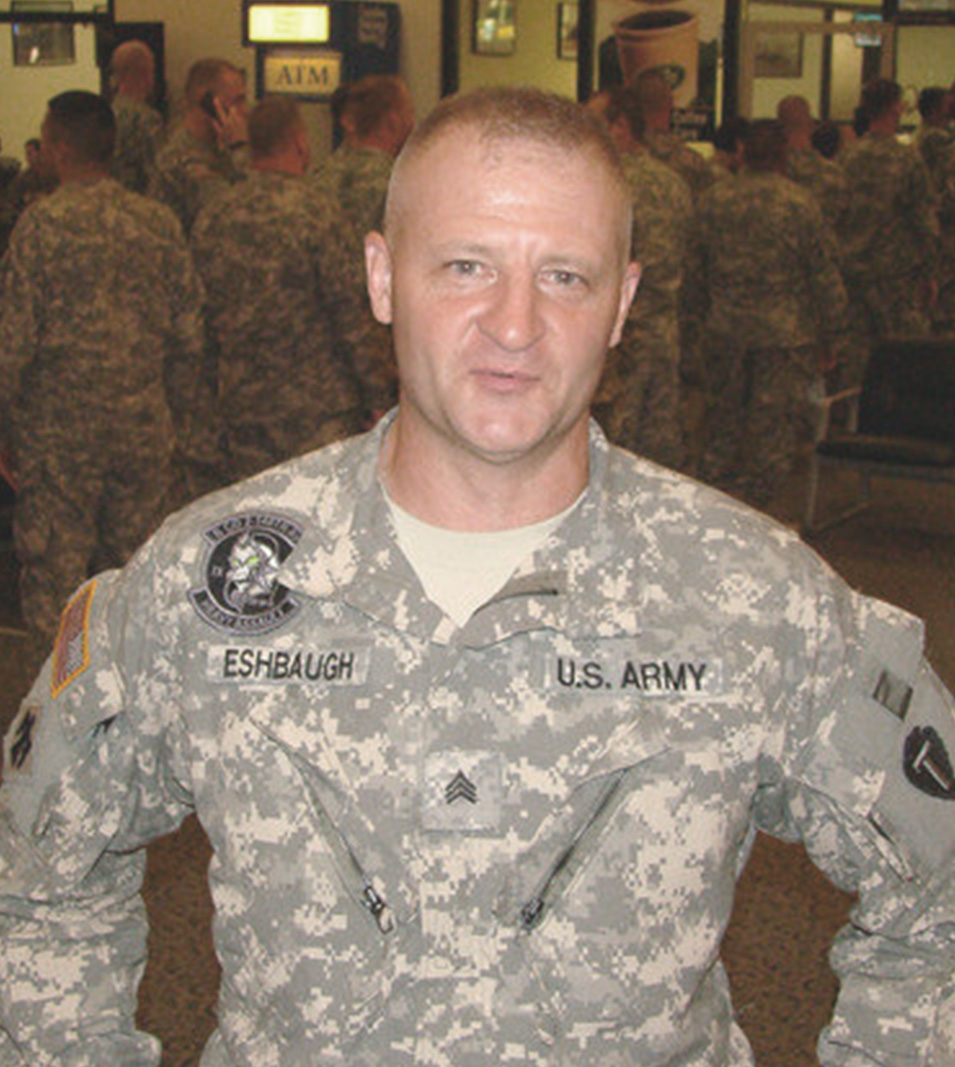 TOP CHARACTER STRENGTHS
LOVE OF LEARNING - HUMOR 
SGT Daniel Eshbaugh was killed on September 18th 2008 in a CH-47 Chinook helicopter crash near Tallil, Iraq with six others. Dan joined the Air Force right out of high school and served ten years. He then became a trucker but realized that the military was his true calling. Dan joined the Oklahoma National Guard and served ten years. Dan could always be counted on for his leadership, humor, and integrity. While he often presented himself with a tough exterior, he had the biggest and warmest heart. Dan will be remembered for his humor and playfulness and his lifetime love of learning.
Dan served ten years in the Oklahoma National Guard. For the first nine years he was a mechanic. Dan wanted to venture outside of his comfort zone and became a flight engineer. Dan always had a fear of heights but did not let it stop him from pursuing new goals. Dan always wanted a little bit more. He was described as being a hard worker and a quick learner. He expanded his knowledge from just the engines to learning the entire aircraft. He expanded his knowledge by using his couch as an aircraft and his two children as pilots. Dan was always the first person at work and the first person to get started on a task.
Dan was always a fun and energetic person. He loved to play jokes on others and always got the people around him to laugh. There are countless stories and here are just a few examples of Dan's humor. Dan loved to grill and hang out with family and friends. He would often get asked what he was cooking and he would nonchalantly reply cow's tongue. After receiving various reactions he would laugh and tell them what he was actually cooking. Another example of Dan's humor is when he played a prank on his commander during a flight. Dan and his fellow flight engineers placed every weight they could find in the commander's backpack. It was a quarter mile walk to the hangar. The commander noticed the weight of his bag but didn't open it until he noticed the flight engineers laughing. If anyone was feeling down they could always count on Dan to cheer them up.
TMF Stats:
001 78,000+ Veterans + Survivors Empowered

002 200,000+ Spartan Members
003 550,000+ Youth Living "If Not Me, Then Who..." Movement