Marines
Michael Washington
---
DOD // 06.14.2008
HOMETOWN // Tacoma, WA
DOB // 10.06.1987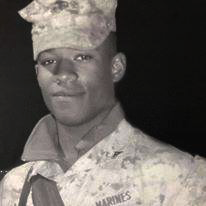 TOP CHARACTER STRENGTHS
BRAVERY - TEAMWORK - LEADERSHIP
Michael was born on October 6 1987 at Naval Hospital Camp Pendleton. He and his family moved to Tacoma in 1994. Michael played soccer and had many friends. Michael attended Stadium High School in Tacoma and participated in the Navy JROTC program for the 4 years he attended Stadium. Michael was brought up to help those who couldn't help themselves and to protect the those who couldn't defend themselves. This directive pointed him to follow his father into the Marine Corps at the age of 17. He graduated Boot Camp in 2005 and became a member of the storied 2nd Battalion 7th Marine Regiment at 29 Palms. Michael deployed to Iraq with 2-7 in 2007 and received commendations for bravery and performance during this deployment. He was meritoriously promoted to Sergeant and became a Squad Leader prior to 2-7s deployment to Afghanistan. Michael was killed along with 3 other Marines, LCpl Layton Crass, Pfc Michael Patton and Pfc David Pietrek when their vehicle struck an IED while on patrol in Farah Province on 14 June 2008. Michael is buried at Tahoma National Cemetery in Covington Washington. 
Character Strength Stories:
I had returned from my last tour before retiring from the Marine Corps. My son and I were headed down to LA to deal with recently deceased fathers affects. It was a father /son road trip and we were excited to be on the open road together after my lengthy absence. He had grown considerably during the year I was away and was a year from graduating from high school. His mother and I urged him to go to college. He had the grades and we had the money or would be able to find it through grants and scholarships. We were solidly upper middle class thanks to my job as a Seattle Firefighter and I was keen to have him explore that option. However his sister had recently enlisted in the Army and I knew that there was little chance of him deferring his dream of being a Marine especially with his sister in uniform. As we drove through the Redwood Forest we listened to radio reports of the Marines fight in Fallujah. The journalist interviewed Marines on the ground and they gave a good accounting if why they were there and the job they were doing. I looked at my son and it became clear that he was going into the Marines as soon as he could and would hope for us to sign a release as he was going to graduate at 17. I asked him straight. "Son you have no interest in going to college do you?" He didn't answer, just looked straight ahead. "Your joining the Marines as soon as you can aren't you? And I bet your going infantry." He looked at me and said "yes". "Son you have the opportunity to do nothing you want. You don't have to join the Marine Corps. And you definitely don't have to join the Marines to impress me or follow my foot steps. I am immensely proud of the young man you are and will be." He remained silent. I asked him "Why do you want to join the Marines in the middle of a shooting war?" He was silent for moment, the hum of the engine and the road was the only sound, the forest passed uniformly as if on a reel outside our car. Finely he said, "Dad, there are people in this world who need to be protected because they have no one to protect them. Sometimes that takes someone with a rifle to stand over them and protect them. I want to be that person." I couldn't argue with that sentiment. I didn't. I knew that my son had began his march towards the sound of gunfire and his destiny.
-Submitted by Michael, Surviving Father
TMF Stats:
001 78,000+ Veterans + Survivors Empowered

002 200,000+ Spartan Members
003 550,000+ Youth Living "If Not Me, Then Who..." Movement