Army
Christopher Horton
---
DOD // 09.09.2011
HOMETOWN // Collinsville, OK
DOB // 10.01.1984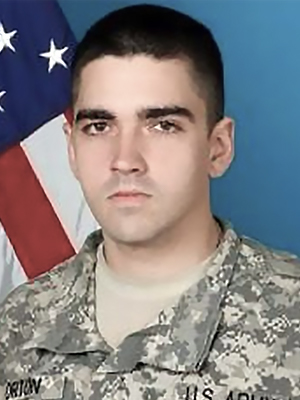 Specialist Christopher D. Horton died in Paktia, Afghanistan on September 9, 2011, of wounds suffered when enemy forces attacked using small arms fire. He was 26 years old. Specialist Horton was assigned to the 1st Battalion, 279 Infantry Regiment, 45th Infantry Brigade Combat Team, and Oklahoma National Guard, based out of Tulsa, Oklahoma.
Specialist Horton graduated from the Missouri Military Academy in Mexico, Missouri. He enlisted in the Oklahoma Army National Guard in 2008. While serving his time with the Oklahoma National Guard, he became an infantryman, received his SWAT certification, and became sniper qualified. His extensive marksman awards included: The Gus Hadwiger Award in 2009, 1st place Novice Pistol in the Oklahoma National Guard Sergeant Major's match in 2009, 1st place novice pistol in the Governor's Twenty Matches in 2009, 2nd place in the Old Fort Shootout in the Unclassified Production Division in 2009, 2nd place Pistol in The State of Oklahoma Governor's Twenty 2009, Oklahoma State International Defensive Pistol Association's Champion High Military in both 2008 and 2009, 3rd place in the Carolina Cup Enhanced Service Pistol Sharpshooter in 2008 as well as many others. Specialist Horton was also a professional sponsored shooter through the United States shooting Academy in Owasso, Oklahoma.
In his spare time, he worked on numerous political campaigns including President Bush's 2004 re-election campaign, Governor Romney's 2008 Presidential primary. Specialist Horton enjoyed fishing and playing basketball. He leaves behind his wife, Jane Horton, who he met at King's College in New York City. Specialist Horton also leaves behind a brother, Nicholas, and a sister, Tenley. He was the son of Reverend David and Cherie Bonnema Horton of Tulsa, Oklahoma.
The family of Specialist Horton honored their loved one through service by participating in Shane's Challenge 2014 and 2015 in San Raimundo, Guatemala.
Related Links
Find A Grave
https://www.findagrave.com/memorial/76324761/christopher-horton
TMF Stats:
001 78,000+ Veterans + Survivors Empowered

002 200,000+ Spartan Members
003 550,000+ Youth Living "If Not Me, Then Who..." Movement