Army
Gennaro Pellegrini Jr.
---
DOD // 08.09.2005
HOMETOWN // Philadelphia, PA
DOB // 11.23.1973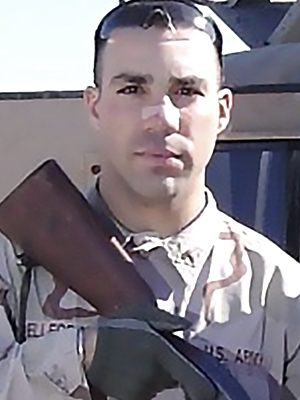 SPC Gennaro Pellegrini Jr., 31, of Philadelphia, PA, died on Aug. 9, 2005 in Bayji, Iraq, where a mine exploded and enemy forces attacked using small arms fire. The attack occurred while he was investigating a rocket-propelled grenade incident. He was assigned to the Army National Guard's 1st Battalion, 111th Infantry Regiment (Mechanized), Philadelphia, PA. Gennaro, known as "Gerry" to his family and friends, joined the Philadelphia Police Force in 2001.
"He's a double hero because of the way he conducted himself as a police officer on the streets of Philadelphia and for the sacrifice he made in Iraq for our country. People around here will be talking about him for many, many years," a fellow officer told a Philadelphia Weekly columnist.
His National Guard unit deployed to Iraq in 2004. He was an avid boxer, and boxed in one professional fight before his deployment. The soldier was survived by his father and mother, Gennaro senior and Edith Pellegrini, and his two sisters, Dana and Kimberly.
"Everybody here [Fishtown's 26th Police District] respected him. He not only had your back, he'd jump over you to protect you," CPT Lou Campione, commander of Fishtown's 26th Police District said.
The Travis Manion Foundation honored SPC Pellegrini Jr. through the Character Does Matter program on Oct. 18, 2012 when his story inspired 150 cadets in the Army JROTC at Martin Luther King High School in Philadelphia, PA.
Related Links
CBS Philadelphia
http://philadelphia.cbslocal.com/2011/05/02/remembering-the-fallen-on-this-special-day/
ESPN
http://sports.espn.go.com/sports/boxing/news/story?id=2152355
TMF Stats:
001 78,000+ Veterans + Survivors Empowered

002 200,000+ Spartan Members
003 550,000+ Youth Living "If Not Me, Then Who..." Movement