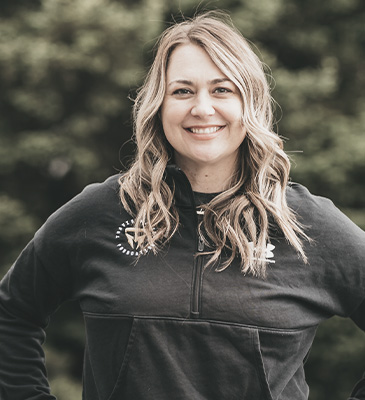 Top Character Strengths
GRATITUDE - FAIRNESS - SPIRITUALITY
Personality Profile
What character strength do you value the most and why? I value gratitude the most in myself and in others. I think constantly being thankful for how my life has unfolded - regardless of the struggles I've faced - the relationships in my life, and the gifts I've been given help keep me grounded day to day.
How do your top character strengths support your work at TMF?
It's easy for me to feel grateful about being a part of an organization with such an inspiring mission and working with a team that takes that mission to heart. I think that gratitude motivates me to continue doing my best work at TMF.

What do you enjoy most about working with veterans, survivors, and inspired civilians?
Of all the tribes I belong to, this is my favorite. There is something truly special about the military community and all the people who find their way in. There's a unique grit you're hard pressed to find elsewhere, an inspiring sense of patriotism and loyalty to our country, strength, boldness, and the ability to adapt when life inevitably gets hard. It is always inspiring to be a part of this group.
01
Education
B.A. in Journalism, Auburn University.
02
Skills and Expertise
Storytelling, helping people communicate effectively, doodling.
03
Passions and Interests
My faith, hiking or almost anything else outside, toddler crafts and activities that keep my daughter smiling, indoor plants, adventures, my home gym.
04
Military Connection
I have a long family history of military service that began with my great-grandfather, who retired after serving in Korea, WWII and Vietnam, and continued with my grandfather, who retired from the Army after earning a Purple Heart in Vietnam; my father, who also retired from the Army; and my step-father, who retired from the Air Force. I've also been a supportive spouse of an active duty Navy service member since 2010.
001
78,000+
Veterans + Survivors Empowered
002
200,000+
Spartan Members
003
550,000+
Youth Living "If Not Me, Then Who..." Movement