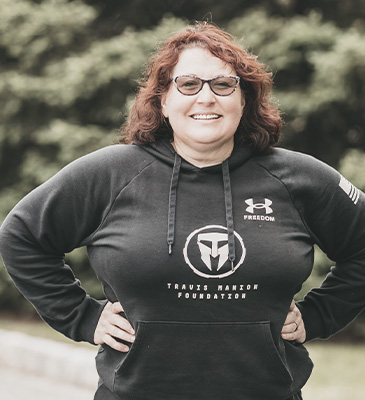 Top Character Strengths
LOVE OF LEARNING - HONESTY - ZEST
Personality Profile
What character strength do you value the most and why? 
In myself I value love of learning because it teaches me perspective and depth, but the overall character strength I value is kindness because that is how we can work together better.

How do your top character strengths support your work at TMF? 
My top character strengths work together well for TMF because as an organization we are always learning, I have appreciated the honesty I have witnessed as well as the influence of humor so my zest has been well received.

What do you enjoy most about working with veterans, survivors, and inspired civilians?
As a veteran and an active volunteer in both the military community I live in as well as the youth space I have worked in for years working with these specific demographics I feel are the salt of the earth, these are the impactors for a brighter future. I would have to say my favorite thing about them is their ability to work well together and share experiences.
01
Education
Bachelors of Science, Business Management, Masters of Science Management and Leadership.
02
Skills and Expertise
Connecting people and resources, building relationships as well as partnerships, helping others with their goals.
03
Passions and Interests
My passion is volunteering, family, and fitness. When the stars align I combine them all. I once coordinated an event on Joint Base Lewis McChord where My parents helped me get 17 young men on Base to workout and spend the day with soldiers from the 2nd Striker Brigade and the relationships and impacts are still felt to this day.
04
Military Connection
US Army, Navy Reserves Veteran, and Military Spouse.
001
78,000+
Veterans + Survivors Empowered
002
200,000+
Spartan Members
003
550,000+
Youth Living "If Not Me, Then Who..." Movement