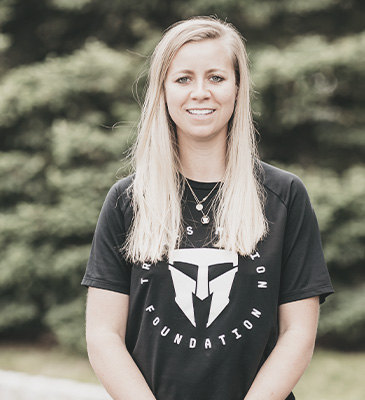 Top Character Strengths
FAIRNESS - HONESTY - PERSEVERANCE
Personality Profile
What character strength do you value the most and why?
I value the character strength of honesty the most. From honesty is born trust and I think that trust is the foundation for any successful and positive relationship.

How do your top character strengths support your work at TMF?
I think that honesty and fairness are essential for being a productive and effective member of a team and also a good communicator. Perseverance and not only overcoming obstacles, but also the ability to turn them into something positive for oneself and for others is at the core of what TMF does and I look forward to supporting that message and mission.


What do you enjoy most about working with veterans, survivors, and inspired civilians?
I am inspired every day by the strength of these individuals. Developing that strength of character and resilience is so important.  I am so excited to be a part of this journey and for the opportunity to honor my own family of service members by working hard every day to support TMF.
01
Education
B.A. in Economics.
02
Skills and Expertise
Event Management, Administrative support.
03
Passions and Interests
Traveling, spending time outside with my family and my dogs.
04
Military Connection
My dad was in the Army, my older brother was in the Air Force and my twin brother was a Marine and is currently with the Rhode Island National Guard.
001
78,000+
Veterans + Survivors Empowered
002
200,000+
Spartan Members
003
550,000+
Youth Living "If Not Me, Then Who..." Movement