Chairman Emeritus
COL. TOM MANION, USMC (RET)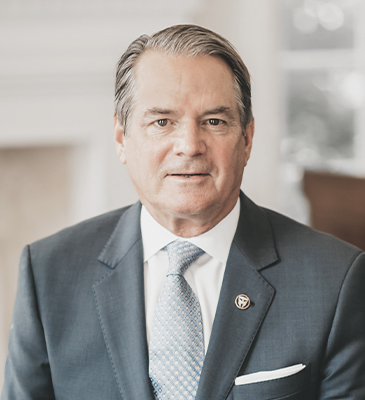 Colonel Tom Manion started his career in the Marine Corps – retiring after 30 years. Besides his military career, Tom joined Johnson & Johnson in 1990 and through the years held various leadership roles before retiring in 2014 after 23 years. Tom is the father of 1stLt. Travis Manion USMC, who made the ultimate sacrifice for our country in April 2007.
After the loss of Travis, the family established Travis Manion Foundation (TMF) to support our military, the families of the fallen and to help create the next generation of leaders. As TMF's Chairman Emeritus, Tom has worked within the community and around the country to inspire people around him, to convey a sense of sacrifice and public service in all they do. Tom's late wife, founder and visionary of TMF, Janet Manion, passed away April 24, 2012, devoting every day to putting service above self.
Tom is also the co-author of the book, "Brothers Forever", the story about the friendship, service and sacrifice between Travis and his Naval Academy roommate LT (SEAL) Brendan Looney.
001
78,000+
Veterans + Survivors Empowered
002
200,000+
Spartan Members
003
500,000+
Youth Living "If Not Me, Then Who..." Movement