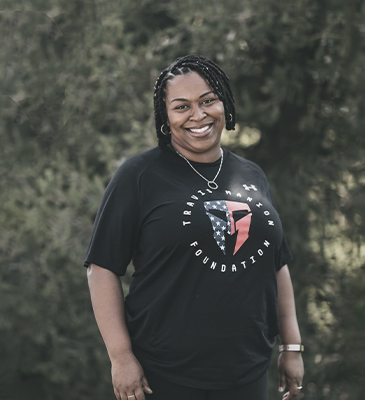 Top Character Strengths
HUMOR - LOVE - CREATIVITY
Personality Profile
What character strength do you value the most and why?
I believe humor is a strength that can bring all people together. It has the power to break the silence in a room full of strangers.

How do your top character strengths support your work at TMF?
A little humor, creativity and a whole lot of love is needed to connect to our members. These three character strengths are the seeds needed to plant, grow and nourish those relationships. 


What do you enjoy most about working with veterans, survivors, and inspired civilians?
I've grown up in both the military and civilian worlds. This group is like none other when it comes to their hearts for service and community.
01
Education
Bachelor of Science in Business (BSB)
Master of Arts in Teaching (MAT), Elem. Ed Doctor of Education (EdD), Leadership Studies
02
Skills and Expertise
Educational Training/Presenting.
03
Passions and Interests
Traveling, spending time with my family/friends, avid movie goer.
04
Military Connection
Proud daughter of USMC Col. (Ret.), and sister to two Air Force Veterans.
001
78,000+
Veterans + Survivors Empowered
002
200,000+
Spartan Members
003
500,000+
Youth Living "If Not Me, Then Who..." Movement