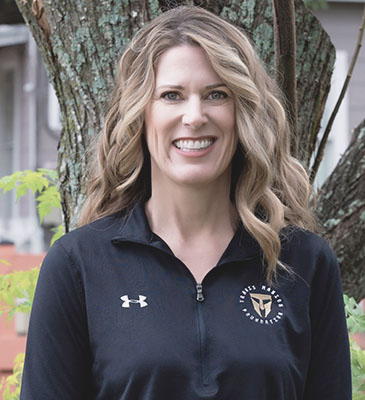 Top Character Strengths
LEADERSHIP - SPIRITUALITY - KINDNESS
Personality Profile
What character strength do you value the most and why? Spirituality reminds me that life is so much bigger than me. I am here to connect with the world and the people around me. It is what gets me out of bed every single day. 
How do your top character strengths support your work at TMF?
Belief in something bigger drives my passion. As a leader, I get things done. The kindness ensures I never step on anyone while getting those things done.

What do you enjoy most about working with veterans, survivors, and inspired civilians?
I enjoy connecting with them and connecting them with each other. Life is better lived in community.
01
Education
Master of Nonprofit Management, University of Central Florida.
02
Skills and Expertise
Nonprofit Management, Fundraising, Special Events, and Relationship-Building.
03
Passions and Interests
People, running, hiking, and anything outside.
04
Military Connection
Proud Army Granddaughter (both sides), Air Force Daughter, Army Niece, Army Sister, Navy Sister-In-Law, Army Wife, and THE MOST PROUD Army Mom.
001
78,000+
Veterans + Survivors Empowered
002
200,000+
Spartan Members
003
550,000+
Youth Living "If Not Me, Then Who..." Movement