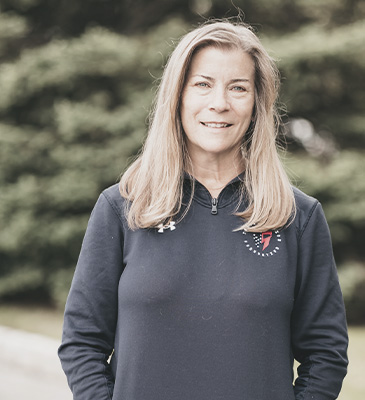 Top Character Strengths
HONESTY - LEADERSHIP - HOPE
Personality Profile
What character strength do you value the most and why? 
Honesty.  Quality relationships are built on trust, with honesty as the foundation of trust.

How do your top character strengths support your work at TMF? 
Honesty enables me to build quality, trust-based relationships.  With hope, I have a positive outlook even in the most challenging circumstances, knowing that there is always a solution to a problem or challenge; hope allows me to be open-minded to seeing options to solve a problem or meet a challenge.  Leadership positions me to organize others to work together toward a goal or challenge, fostering an atmosphere of mutual respect and collaboration.

What do you enjoy most about working with veterans, survivors, and inspired civilians?
Working at TMF enables me to support its strong mission of developing character in future generations; I feel honored to contribute to the organization's impact on veterans, their families, youth and the broader community.
01
Education
MS Math, University of New Hampshire
BS Math, California State University Chico
02
Skills and Expertise
Program and Project management, Strategic Planning, IT Service Management, Mentoring.
03
Passions and Interests
Family time, fitness, sports, live music and theater, travel.
04
Military Connection
Father served in the Coast Guard Auxiliary.
001
78,000+
Veterans + Survivors Empowered
002
200,000+
Spartan Members
003
550,000+
Youth Living "If Not Me, Then Who..." Movement