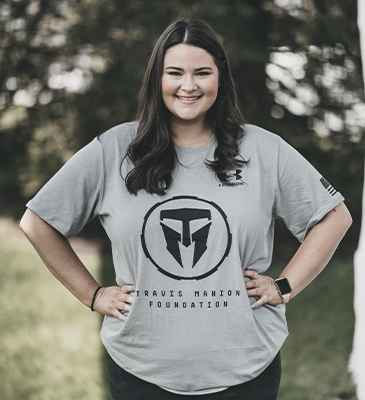 Top Character Strengths
HUMOR - KINDNESS - PERSPECTIVE
Personality Profile
What character strength do you value the most and why? 
I value hope the most for many reasons! Not only does it keep you motivated to keep working towards a better outcome, a better self, or a better future, but it also unites communities. Hope brings people to work together with positive attitudes and the intention of achieving a common goal. I always aim to see the good in every situation – there is always hope! 

How do your top character strengths support your work at TMF? 
My sense of humor allows me to bring people together through laughter. Keeping things light when they need to be allows me to relate to others on a personal level and build genuine relationships with those I collaborate with.

What do you enjoy most about working with veterans, survivors, and inspired civilians?
I enjoy the ability to make a difference while building relationships with like-minded people. It also gives me the opportunity to work towards eliminating the isolation that many veterans face after being discharged, just as I witnessed my grandfather struggle with.
01
Education
Bachelors of Arts in Philosophy and Political Science, University of Arkansas.
02
Skills and Expertise
Planning and Coordination, Relationship Building, and Problem Solving.
03
Passions and Interests
Trying new recipes, finishing a book in one sitting, going to brunch, and family!
04
Military Connection
My Grandfather is a Vietnam War Veteran.
001
78,000+
Veterans + Survivors Empowered
002
200,000+
Spartan Members
003
550,000+
Youth Living "If Not Me, Then Who..." Movement