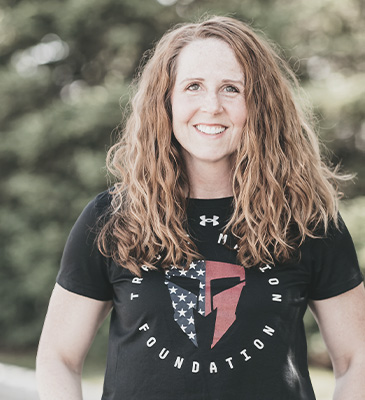 Top Character Strengths
KINDNESS - HUMOR - HONESTY
Personality Profile
What character strength do you value the most and why? 
Kindness above all else. EVERYONE responds to kindness. Even in the most difficult of situations, if you can be kind, that says alot.

How do your top character strengths support your work at TMF? 
Being kind and helping others is what life is all about, and TMF embodies that spirit. Sometimes humor really gets the job done, especially during stressful times.  Knowing when to dip into that character strength is valuable when working with veterans, coworkers and volunteers.  Being honest and speaking my truth is second nature for me. I think creating relationships built off of honesty, kindness, and humor is the key to success.

What do you enjoy most about working with veterans, survivors, and inspired civilians?

Being inspired daily and challenging myself in ways that I never thought was possible. Doing more for others, seeing lives change, communities motivated, and learning from veterans are some of the biggest rewards.
01
Education
Bachelor's of Science, Management-University of Pittsburgh.
Associate in A.S. Business Management/Marketing-Westmoreland County Community College.
Certified Run Coach-Road Runners Club of America.

02
Skills and Expertise
Organized and driven. A people person by nature. Natural leader.
03
Passions and Interests
Running, working out, rucking, spending time with family and friends, traveling, participating in endurance events, cooking and reading.
04
Military Connection
My brother Travis-Marines, 3 uncles and a cousin in the Army, 1 cousin in the Navy, and my grandfather and 2 uncles in the Air Force.
001
78,000+
Veterans + Survivors Empowered
002
200,000+
Spartan Members
003
550,000+
Youth Living "If Not Me, Then Who..." Movement