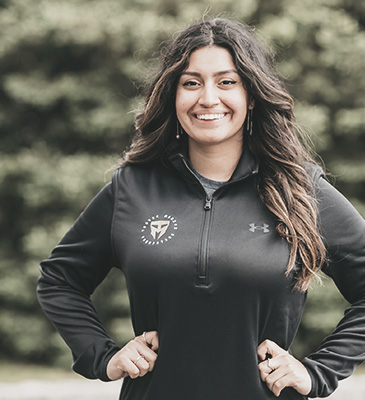 Top Character Strengths
APPRECIATION OF BEAUTY + EXCELLENCE - FAIRNESS - LEADERSHIP
Personality Profile
What character strength do you value the most and why? 
Love. It's very powerful. Something I say a lot is that " I do what I do because I love what I do". That love has carried me to follow my passions, assist others, and be open to understanding in order to create/ foster a supportive community.

How do your top character strengths support your work at TMF? 
The appreciation of beauty and excellence supports my work at TMF as I feel being able to appreciate the little things in life and bring the best out of others can inspire those around me to do more than thought possible. Sometimes all someone wants is to be heard, validated and supported; it's this character strength that allows me to do that within the Spartan community and the communities we serve.

What do you enjoy most about working with veterans, survivors, and inspired civilians?
What I enjoy most is the opportunity to get to know a person's "why". Everyone has a reason for wanting to volunteer; mine was I wanted to continue serving after my service in the military had come to an end. Getting to know everyone builds camaraderie and eventually a family;  that has been my favorite part about working with veterans, survivors and inspired civilians.
01
Education
Dual BS Sociology and Criminal Justice, Old Dominion University
AS Social Sciences, Tidewater Community College
02
Skills and Expertise
Program Development, Public Speaking, Research, Case Analysis, Communication.
03
Passions and Interests
Research, hiking, reading, and golf.
04
Military Connection
US Navy Veteran, 2015-2019, Sonar Technician (STG2).
001
78,000+
Veterans + Survivors Empowered
002
200,000+
Spartan Members
003
550,000+
Youth Living "If Not Me, Then Who..." Movement