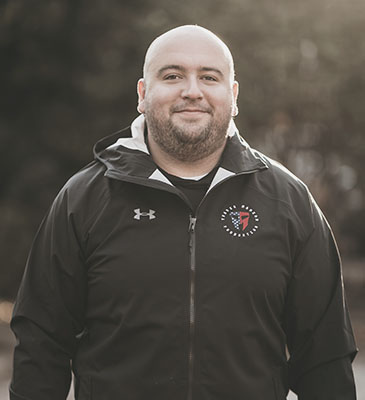 Top Character Strengths
HUMOR - CREATIVITY - CURIOSITY
Personality Profile
What character strength do you value the most and why? 
Humor because no matter how hard life gets or how serious a situation becomes, you can still always crack a joke and a smile.

How do your top character strengths support your work at TMF? 
My character strengths allow me to be a lighthearted and effective leader to make the overall environment more positive and enjoyable.  By also utilizing my creativity and curiosity, I can conceptualize and creatively problem-solve and make informed decisions.  Lastly, everyone loves a good joke!

What do you enjoy most about working with veterans, survivors, and inspired civilians?
I like working with this group because it is one big family of people who have a strong passion about their work.  I also love connecting with veterans and family members because no matter when or where you served, we are all connected.  
01
Education
M.S. Counterterrorism, Nichols College
B.S. Law Enforcement Administration, University of New Haven

02
Skills and Expertise
Humor, Team-building, Management, Operations Management, and Training Management.
03
Passions and Interests
Travelling and meeting new people.
04
Military Connection
Army Veteran and currently serving Army National Guardsman.
001
78,000+
Veterans + Survivors Empowered
002
200,000+
Spartan Members
003
550,000+
Youth Living "If Not Me, Then Who..." Movement