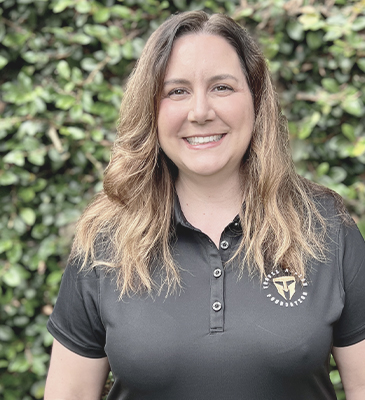 Top Character Strengths
HONESTY - LOVE OF LEARNING - PRUDENCE
Personality Profile
What character strength do you value the most and why? 
Love of Learning because in the data and CRM world, new technology is always coming out that can help make an organization more effective. Having genuine curiosity and excitement about these new developments helps me stay motivated to master the newest tech.

How do your top character strengths support your work at TMF? 
I love organizing things and tackling big projects. My character strengths help me understand each department's unique technology needs and adapt our systems to make their work easier and more efficient. I'm always ready to dig into whatever obstacle they encounter in data and technology.

What do you enjoy most about working with veterans, survivors, and inspired civilians?
Recognizing and honoring the unique experiences our veterans and survivors have gone through is something I value. Connecting and supporting them through my work at TMF is what I love, so that they can thrive while building community.  
01
Education
B.A. in Advertising, Iowa State University.
02
Skills and Expertise
Organizing, Empathy, and Determination.
03
Passions and Interests
Family, Military Family Support, Volunteering, and Spending time at the beach.
04
Military Connection
Navy Submarine Spouse.
001
78,000+
Veterans + Survivors Empowered
002
200,000+
Spartan Members
003
550,000+
Youth Living "If Not Me, Then Who..." Movement