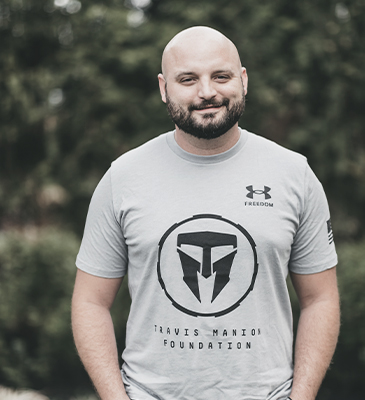 Top Character Strengths
LOVE - HUMOR - SPIRITUALITY
Personality Profile
What character strength do you value the most and why? 
I value love the most.  Being a husband and father of three children, I know how important and impactful a loving family environment is. 

How do your top character strengths support your work at TMF? 
In my role, I facilitate the training and development of spartan mentors to work with youth on identifying and strengthening their character strengths.  I regularly leverage my character strength of Humor to help our Spartans feel comfortable and open up during our training sessions. 

What do you enjoy most about working with veterans, survivors, and inspired civilians?
Like some veterans, after I was honorably discharged and became a civilian, I struggled to find my place in society and how to feel fulfilled.  I'm proud that I get to help others find their sense of service and meaning, and I hope to learn from them along the way.
01
Education
B.S in Sociology with a Minor in Psychology.
02
Skills and Expertise
Collaborating with peers to solve organizational challenges, business writing, facilitating learning and feedback conversations to enhance delivery of programs, empowering volunteers and creating processes/standards/procedures.
03
Passions and Interests
Spending quality time with my wife and kids, finding new hobbies to keep me busy on our farm, trying to stay in-shape and hiking, kayaking, hunting and fishing.
04
Military Connection
I served in the United States Army, 2nd Infantry Division. I was stationed in South Korea for the majority of my service, and actually served near the same location that my grandfather served during the Korean War, and where his brother was KIA during the conflict.
001
78,000+
Veterans + Survivors Empowered
002
200,000+
Spartan Members
003
500,000+
Youth Living "If Not Me, Then Who..." Movement