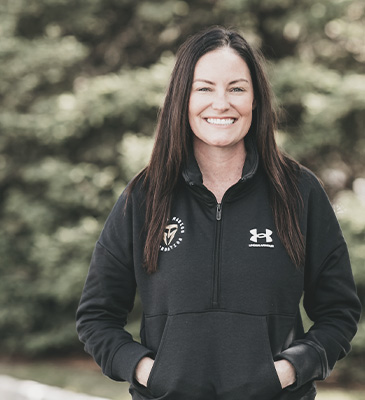 Top Character Strengths
HONESTY - KINDESS - JUDGEMENT
Personality Profile
What character strength do you value the most and why?
I value kindness the most because you can't always control what happens in life but you can always control your actions and how you treat others.

How do your top character strengths support your work at TMF?
Those that serve our country deserve our utmost respect, and empathy and kindness allow us to best understand and care for their needs. It inspires confidence in their effort to know their sacrifice does not go unnoticed. Working with passionate and dedicated people in this organization inspires me in all aspects of life and makes me proud to be part of this team. Living the motto and placing others before ourselves ensures our military members, their families, and those that support this great organization know that we don't ask more from others than of ourselves. The trust created in executing this noble cause allows us to give back to those that have given so much. 


What do you enjoy most about working with veterans, survivors, and inspired civilians?
Our military members and their families sign on to be part of something bigger than themselves. That dedication requires sacrifice that few others can fully comprehend. That sense of duty to others inspires the work that I do and how I endeavor to live my life. It is through their example that I see the best of us as a society and it gives me hope for our future. Working with these amazing people motivates me to give my best and hopefully inspire others to do the same.
01
Education
B.A. ED, University of North Florida.
02
Skills and Expertise
Event planning, Relationship building, Engagement and Marketing.
03
Passions and Interests
Spending time with my family, going to the beach, traveling, cooking and binge watching great TV shows.
04
Military Connection
My husband is active duty Navy.
001
78,000+
Veterans + Survivors Empowered
002
200,000+
Spartan Members
003
550,000+
Youth Living "If Not Me, Then Who..." Movement