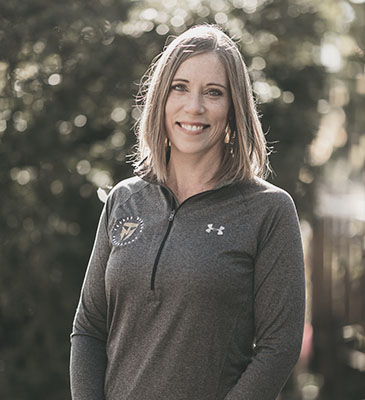 Top Character Strengths
KINDNESS - HOPE - APPRECIATION OF BEAUTY + EXCELLENCE
Personality Profile
What character strength do you value the most and why? 
I think I have to go with hope. It's not always easy to conjure in stressful times, and when gloom and doom seem so prevalent — yet it's what keeps me moving forward. One of my favorite Emily Dickinson verses is: "Hope is the thing with feathers / that perches in the soul / and sings the tunes without the words / and never stops at all." I believe in finding hope amidst the chaos, and that there always is some hope to find.

How do your top character strengths support your work at TMF? 
I think kindness — and my desire to cultivate and share it — always supports my work. It drives me to communicate in a way that resonates with people, that conveys empathy and encourages an ongoing conversation. 

What do you enjoy most about working with veterans, survivors, and inspired civilians?
My husband's Uncle Joey passed away last year from pancreatic cancer. He was far too young. He was also a very proud and active veteran. I learned so much from him over the years, not only about what it was like for him to be in the Army, but also about how he carried a mission and mindset of service. There was nothing Uncle Joey wouldn't do for anyone, be it family, friend, neighbor or stranger. I remember thinking at his funeral that we could all honor Uncle Joey's memory by being more like him. And now I feel that I am doing just that with TMF. As a grateful civilian, I'm truly humbled by the opportunity.  
01
Education
B.A. Print Journalism, Hofstra University.
02
Skills and Expertise
Writing, editing, communication, optimism, and collaboration.
03
Passions and Interests
Writing, reading, exploring outdoors, tap dancing, baking, being helpful, watching my kiddos grow and thrive, and spending time (and drinking wine!) with my friends and family.
04
Military Connection
Dad, grandfathers and a few uncles are veterans. My cousin is currently training to be a PJ in the USAF.
001
78,000+
Veterans + Survivors Empowered
002
200,000+
Spartan Members
003
500,000+
Youth Living "If Not Me, Then Who..." Movement