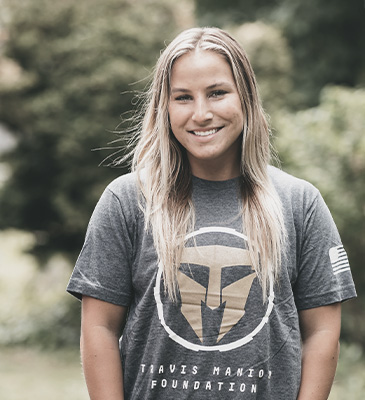 Top Character Strengths
SPIRITUALITY - GRATITUDE - CURIOSITY
Personality Profile
What character strength do you value the most and why? 
Curiosity is a character strength I value the most because it drives me to continue exploring in all aspects of life. Because of curiosity I am continuously growing, learning and bettering myself in an overall sense. 

How do your top character strengths support your work at TMF? 
Curiosity motivates me to divulge into different avenues for this organization in hopes of separating it as an entity. At the same time, my gratitude helps me to remain humble and grounded in this work I do and in representing the organization. My spirituality contributes a special element to this organization as it motivates me to want to do this work for an even bigger cause than what I am already working towards.

What do you enjoy most about working with veterans, survivors, and inspired civilians?
I've always had the utmost respect for those wanting to be a part of something bigger than themselves. Working with and learning from our military members and civilians pushes me to be a better person while also filling me with new perspectives. 
01
Education
B.S. Marketing with a minor in Digital Marketing, West Chester University of Pennsylvania.
02
Skills and Expertise
Social Media, Digital Marketing, Organization, Leadership.
03
Passions and Interests
Health & Fitness, Traveling, Video Editing, Family, Being outside, Going to the beach.
04
Military Connection
Lifelong friend served in the Army National Guard and a family member served as an Army Ranger.
001
78,000+
Veterans + Survivors Empowered
002
200,000+
Spartan Members
003
550,000+
Youth Living "If Not Me, Then Who..." Movement