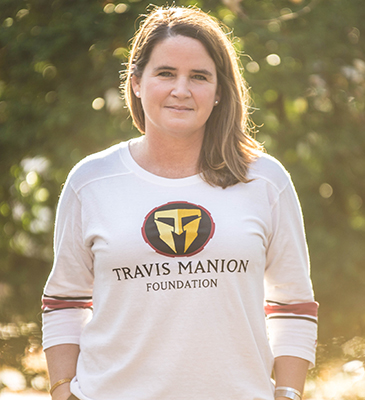 Top Character Strengths
LOVE - HUMILITY - GRATITUDE
Personality Profile
What character strength do you value the most and why? 
I value Humility the most. Humility makes you teachable, grateful, and able to ask for help. It provides balance, and allows us to live authentically.

How do your top character strengths support your work at TMF? 
I think my top strengths help me be of service to others. Love and Gratitude motivate me daily to do my best and contribute at TMF.

What do you enjoy most about working with veterans, survivors, and inspired civilians?
After Travis was killed, My husband Chris and I and our three kids vowed to NEVER FORGET and to honor Travis and those service members who died before and after him every day. Working at TMF and being a Heroes Run Race Director has helped us do that. I love the patriotism, spirit, strength, and inspiration that comes from the veterans, survivors and inspired civilians!
01
Education
B.S. Early Childhood Education, Bloomsburg University.
02
Skills and Expertise
Event coordination, Teamwork, and Multitasking.
03
Passions and Interests
Sports, walking, gardening, meal prep, going to the beach, and I love a good weekend get-away!
04
Military Connection
Grandfather was a Marine, brother served in the Army, Aunt of 1Lt Travis Manion, USMC.
001
78,000+
Veterans + Survivors Empowered
002
200,000+
Spartan Members
003
550,000+
Youth Living "If Not Me, Then Who..." Movement