Marines
Michael LiCalzi
---
DOD // 05.11.2006
HOMETOWN // Garden City, NY
DOB // 04.11.1982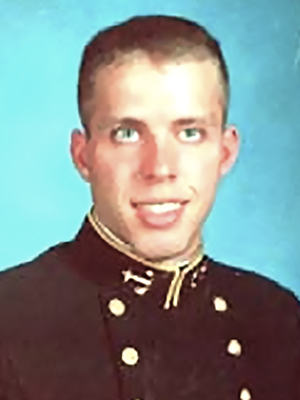 First Lieutenant Michael LiCalzi died when his tank rolled off a bridge into a canal in Al Anbar Province, Iraq. He had been in Iraq just six weeks when he was died. He was assigned to the 2nd Tank Battalion, 2nd Marine Division and was responsible for his platoon of four tanks. Also killed in the accident were Cpl. Steve Vahaviolos, 21, of Airmont, N.Y., Rockland County; Lance Cpl. Jason K. Burnett, 20, of St. Cloud, Florida.; and Lance Cpl. David J. Grames Sanchez, 22, of Fort Wayne, Indiana. 1st Lt. LiCalzi earned the Iraq Campaign Medal, Global War on Terrorism Medal, and the National Defense Service Medal.
1st Lt. LiCalzi graduated from Chaminade High School in 2000. He ran track and cross country, and was part of crew. He was also a member of the German Club. His outside activities included surfing and later in his life, he even took Italian cooking lessons. 1st Lt. LiCalzi graduated from the United States Naval Academy in 2004 with a B.S. in Economics.
1st Lt. Glenn Jensen said of 1st Lt. LiCalzi: "Mike was my roommate in TBS and I can only tell you that those of us that knew him are greater people because of him and that the world is a little darker without his smile. He is missed everyday by his extended family of brothers and sisters. Semper Fi."
"I had only just met him, but we shared the instant bond that all Marines share. Instant friends, instant trust, instant acceptance. I could see the clear look in his eye. The kind that instills trust and confidence in young Marines. The fresh enthusiam, the dedication, the anticipation of his deployment. I found myself missing the Corps a lot that night, because Mike embodied the finest qualities of the USMC. That was apparent from the moment he looked me in the eye and shook my hand, " said Capt. Steve Bowen, USMC (Ret).
1st Lt. LiCalzi is survived by his parents and siblings. He was honored through the Travis Manion Foundation Character Does Matter program presented during the USNA's Summer Seminar and USNA STEM (Science, Technology, Engineering, and Math) Camp for rising 11th graders.
Related Links
TMF Stats:
001 78,000+ Veterans + Survivors Empowered

002 200,000+ Spartan Members
003 550,000+ Youth Living "If Not Me, Then Who..." Movement