Marines
John Wilt
---
DOD // 05.08.2002
HOMETOWN // O'Fallon, IL
DOB // 08.26.1978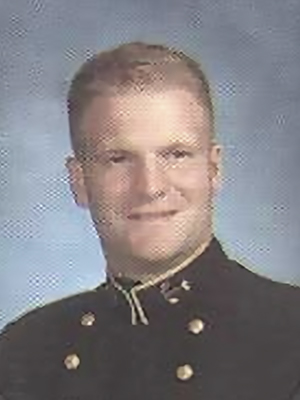 Marine 2nd Lt. Wilt was a 1996 graduate from O'Fallon Township High School and a 2000 graduate of the United States Naval Academy – where he earned a degree in Physics. 2nd Lt. Wilt was killed when two T-39 Sabreliner crashed into each other over the Gulf of Mexico while on a training flight on May 8, 2002.
He enjoyed sports, science, music, math, reading, running, history, literature, and international relations. He was a member of the track team and varsity football team during his time at school. He also took part in two marathons. He was part of the marching band and the speech team, as well as Model UN and the Honor Society.
He was posthumously promoted to 1st Lt. He is survived by his grandparents and parents. 2nd Lt. Wilt was honored through the Travis Manion Foundation's Character Does Matter program presented during the USNA's Summer Seminar and USNA STEM (Science, Technology, Engineering, and Math) Camp for rising 11th graders.
Related Links
TMF Stats:
001 78,000+ Veterans + Survivors Empowered

002 200,000+ Spartan Members
003 550,000+ Youth Living "If Not Me, Then Who..." Movement